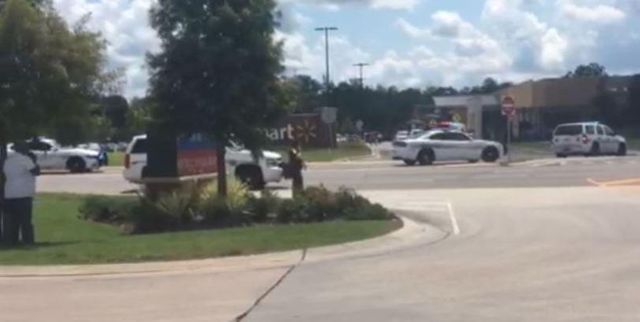 A shooting has been reported at a Baton Rogue Walmart.
According to initial reports, this is not an active shooter situation.
WBRZ reports that one person was transported to the hospital and a large police presence is responding.
This comes after 22 people were killed at an El Paso, Texas shopping complex that included a Walmart store. Two people were also killed at a Mississippi Walmart last week.
Video from the scene below:
LIVE RIGHT NOW: Reported shooting at the Burbank Walmart

Posted by Scottie Hunter WAFB on Tuesday, August 6, 2019
The East Baton Rouge Sheriff's Office is at the scene as well, said spokesman Col. Bryan White. He said they responded to a call at noon Tuesday about shots fired in the Walmart, but have not confirmed details.
Tons of law enforcement and first responders converged at the Walmart for hours.
Update:
Deputies arrested one suspect, but the other fled off in a light-colored sedan. Detectives are actively looking for the second suspect. He is a slightly built, thin, black male wearing black shorts, black shirt and short haircut.
The person who was injured was an innocent bystander, according to East Baton Rouge Parish Sheriff's Office Sheriff Sid Gautraux.
Gautraux said a verbal altercation at the customer service desk led to the shooting. Both of the suspects had handguns.
This is a developing story.
---
Social media censorship is suppressing the truth about the dangers of globalism and brutal cultures infiltrating the west. Please share this article wherever you can. It is the only way we can work around their censorship and ensure people receive news about issues that Democrats and the mainstream media suppress.
Scroll down to leave a comment below.
Subscribe to Our Newsletter