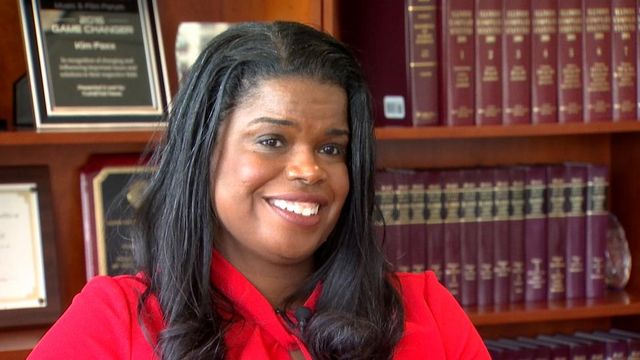 Charges against " Empire" star Jussie Smollett were dropped in a stunning account from the Cook County State Attorney's office.
It was announced that all 16 felony counts against Smollett, 36, were dropped in a nolle pros and the record in the case was sealed. Smollett voluntarily forfeited his bond money. Smollett's attorney, Patricia Brown-Holmes, said the funds would likely go to the city of Chicago.
The charges had come after Smollet allegedly staged his own hate crime.
But it seems that Kim Foxx who was Smollett prosecutor in his case could face serious charges!
Speaking to Laura Ingraham on Fox News Thursday night, former deputy assistant AG John Yoo said that if Foxx is investigated by the FBI and charged, it could lead to a very lengthy jail sentence for the head of the nation's second largest prosecutor's office.
Yoo added that, if Foxx is convicted, she could also be "potentially liable" for "mail wire fraud" due to her actions "depriving citizens" of her sworn duty to provide "honest services."
John Yoo: "This is why we have a US Justice Department."
"OK, so maybe they just spent a lot of time investigating President Trump to no good effect, but now they actually exist to make sure there is no corruption going on in state government."
"If you look at the details of this case where Mrs. Obama's chief of staff calls the prosecutor Kim Foxx and all of the sudden these machinations occur and then the case gets dropped."
"That is exactly what the Justice Department is supposed to be involved in, to make sure there is no corruption in state government. "
"I hope that President Trump is right and that the FBI is starting an investigation to look into this."
Laura Ingraham: "What's the potential criminal exposure here, both for Foxx and the state's attorney office itself?"
John Yoo: "So Foxx could be potentially liable of what is called mail wire fraud of depriving citizens of their honest services, which if she is convicted, this is the standard law that is used to go after corrupt state officials…"
"The maximum sentence is 20 years in prison."
Watch:
Do you think she deserve to serve some prison time?
Scroll down to leave a comment below
---
Social media censorship is suppressing the truth about the dangers of globalism and brutal cultures infiltrating the west. Please share this article wherever you can. It is the only way we can work around their censorship and ensure people receive news about issues that Democrats and the mainstream media suppress.
Scroll down to leave a comment below.
Subscribe to Our Newsletter