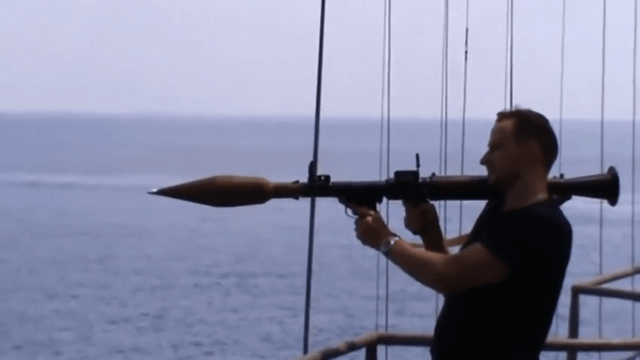 Piracy has been world problem for centuries but lately, piracy has been eradicated except in some part of the world for example in countries like Somalia piracy where piracy provides huge income!
Piracy in the Indian Ocean has been a threat to international shipping since the second phase of the Somali Civil War in the early 21st century.
Since 2005, many international organizations have expressed concern over the rise in acts of piracy.
A group of pirates decides it might be a good idea to mess with the Russian Navy. They die in the process of poking the bear. Watch the video below!
For some reason, this group of pirates thought it would be a good idea to go against the Russian Navy. Whoever told them that it was a good idea to poke the bear, probably lied, according to Funker530.
They die so badly that the Russians decided to make a music video out of them wasting the pirates, and it's actually pretty entertaining to watch.
This isn't fake at all. The Russian Navy usually collected all the pirates on one boat (mostly bigger "motherships" that were used as floating bases for the future attacks). The Pirates got handcuffed and were sitting down on the deck, then the spec ops left some explosives onboard and they sent the whole crew underwater. Or they shot the whole bunch of pirates like in this video.
In Russia, Pirates don't look for Russians, Russians look for Pirates.
They need to be patrolling off the coast of Libya and Turkey. They could save this silly "refugee" invasion of Europe that Merkel caused.
What do you think about this?
Scroll down to leave a comment below!
---
Social media censorship is suppressing the truth about the dangers of globalism and brutal cultures infiltrating the west. Please share this article wherever you can. It is the only way we can work around their censorship and ensure people receive news about issues that Democrats and the mainstream media suppress.
Scroll down to leave a comment below.
Subscribe to Our Newsletter