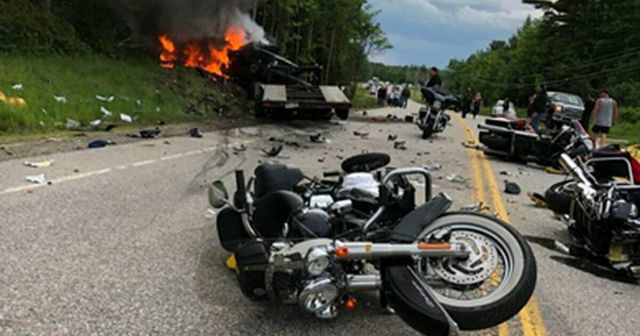 An absolutely heartbreaking story out of New Hampshire, where seven Marines from the Jarheads MC were killed by a pickup truck Friday night.
New Hampshire State Police said a 2016 Dodge 2500 pickup truck crashed into the riders on U.S. 2 in Randolph. When emergency crews arrived, the pickup truck was on fire and onlookers had rushed in to try and help the drivers who were thrown all over the road.
"It's tragic. It's tragic for those involved, tragic for the families, so we're doing our job, we're doing our work and our thoughts are with the people who were adversely affected by this," New Hampshire State Police Capt. Chris Vetter said, according to WMUR in Manchester, New Hampshire. "I don't know that I've ever seen a crash with this much loss of life, so it's a pretty significant accident."
Witnesses described it as an absolutely "devastating" scene.
In addition to the seven dead, two additional people were rushed to the Androscoggin Valley Hospital and another was lifted to Main Medical.
The driver of a truck was charged Monday with seven counts of negligent homicide.
Volodymyr Zhukovskyy, 23, was arrested Monday morning at his home in West Springfield, Massachusetts on a fugitive from justice charge related to Friday's crash, the New Hampshire attorney general's office said.
He was expected to make a court appearance on the charge Monday afternoon in Springfield.
The circumstances of the wreck have been mysterious.
George Loring, a JarHeads member who lives in Hingham, Massachusetts, and was a few hundred yards from the crash, said Zhukovskyy has "got to live with it for the rest of his life."
"Everyone's suffering so much. I guess it's going to help a little bit, knowing, but I feel sorry for the guy who did it," Loring said. "It's so sad for the brothers and sisters who died. You can be angry at him, you can be whatever. I don't know. I'm glad he's been arrested."
Do you think that the truck driver got what he deserved?
---
Social media censorship is suppressing the truth about the dangers of globalism and brutal cultures infiltrating the west. Please share this article wherever you can. It is the only way we can work around their censorship and ensure people receive news about issues that Democrats and the mainstream media suppress.
Scroll down to leave a comment below.
Subscribe to Our Newsletter