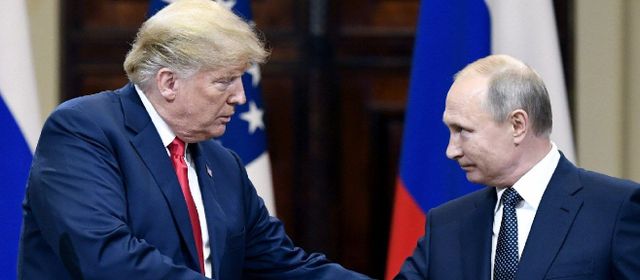 by Daveda Gruber:
On Friday President Trump had a conversation with none other than Russian President Vladimir Putin. The two leaders discussed the crisis in Venezuela, nuclear agreements, North Korean denuclearization, Ukraine and trade.
The call between Trump and Putin spoke for a little over an hour. Besides the other important world issues, they discussed special counsel's Russia investigation.
The president spoke to reporters from the Oval Office about some of the details of the call.
Trump said that the U.S. would "probably start something up shortly between Russia and ourselves," and that "China would be added down the road."
The Russian state news agency Tass reported that Trump and Putin spoke about the New START treaty which is the last major arms-control treaty remaining between the U.S. and Russia.
The treaty that was signed in 2010 expires in 2021. That treaty restricts both the U.S. and Russia to 1,550 deployed strategic nuclear warheads on a maximum of 700 deployed intercontinental ballistic missiles and strategic bombers.
WASHINGTON, May 3. /TASS/. The US aims to improve relations with Russia and expand bilateral trade, US President Donald Trump said on the outcomes of the phone call with Russian President Vladimir Putin.
"We also discussed trade. We intend to do a lot of trade with Russia, we do some right now, and it's up a little bit," Trump said. "And getting along with Russia and China is a good thing."
Earlier on Friday, Trump and Putin have held a phone call, during which they discussed "the current state and prospects of bilateral relations with a focus on economic cooperation", the Kremlin press service informed. The presidents also discussed North Korea, Venezuela, Ukraine, and nuclear disarmament.
Trump said China "very much" wants to be a part of that potential nuclear deal.
Trump took to Twitter to give his thoughts on the phone call:
Had a long and very good conversation with President Putin of Russia. As I have always said, long before the Witch Hunt started, getting along with Russia, China, and everyone is a good thing, not a bad thing….

— Donald J. Trump (@realDonaldTrump) May 3, 2019
….We discussed Trade, Venezuela, Ukraine, North Korea, Nuclear Arms Control and even the "Russian Hoax." Very productive talk!

— Donald J. Trump (@realDonaldTrump) May 3, 2019
North Korean leader Kim Jong Un traveled to Russia last week to meet with Putin and the two spoke about the importance for Russia to continue to help put pressure on North Korea to denuclearize.
In a statement released by the Kremlin after Friday's call said Putin stressed that "Pyongyang's conscientious fulfillment of its obligations should be accompanied by reciprocal steps to reduce sanctions pressure on North Korea."
Trump and Putin also spoke about Venezuela. Trump said Putin said he was "not looking to get involved," but would "like to see something positive happen." Trump said the U.S. wanted to offer "some humanitarian aid."
Trump said, "We want to help on a humanitarian basis."
The two also spoke about the Russia investigation. Trump said, "We discussed it and he actually sort of smiled when he said something to the effect that it started off as a mountain and it ended up as a mouse. But he knew that because he knew there was no collusion."
You can see and hear Trump speaking about his talk with Putin here:
---
Social media censorship is suppressing the truth about the dangers of globalism and brutal cultures infiltrating the west. Please share this article wherever you can. It is the only way we can work around their censorship and ensure people receive news about issues that Democrats and the mainstream media suppress.
Scroll down to leave a comment below.
Subscribe to Our Newsletter