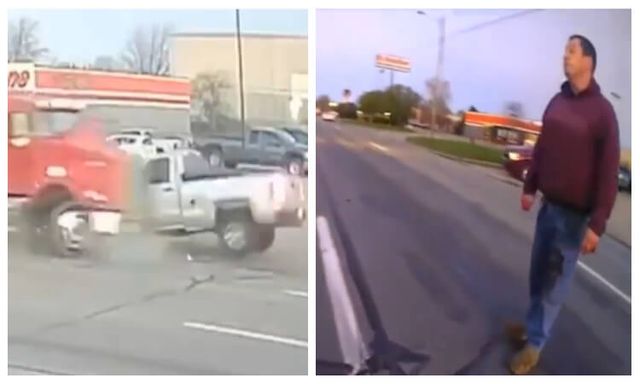 A man is dead after being shot several times by a police officer in Roseville, authorities said.
He has been identified as Frank Robles, 57, from Roseville. He was shot at 6:20 a.m. Tuesday (April 26) after crashing into a semi truck and standing in the road with a knife, police said.
Macomb County sheriff's officials said police were responding to a crash on Groesbeck Highway, just south of 12 Mile Road when the shooting happened.
Video footage released by the Macomb County Sheriff's Office is showing details of a shooting by a Roseville Police Department officer that killed 57-year-old Frank Robles of Roseville.
During a press conference carried by WXYZ-TV, Macomb County Sheriff Anthony Wickersham showed body camera footage from each of the two responding officers and surveillance video of the incident that was captured by a security camera in the area.
Description:
Witnesses to the crash began to approach the Silverado to see if the driver was injured. The driver produced a knife, and the witnesses could see the driver's wrists were cut as he wanted to commit suicide. The witnesses retreated and police were contacted. Police arrived on scene to find the driver of the Silverado in the roadway holding a knife. The officer fired his weapon at the male knocking him to the ground. The man attempted to get up from the ground still in possession of the knife. The officer fired several more shots which prevented the male from advancing any further.
Video below:

Macomb County authorities said they believe nine shots were fired in total by one of the officers. Robles was struck multiple times. No officers were injured.
Police do not believe drugs or alcohol were a factor.
Both officers are on paid leave pending the results of the investigation. Macomb County authorities are not releasing their names at this time.
---
Social media censorship is suppressing the truth about the dangers of globalism and brutal cultures infiltrating the west. Please share this article wherever you can. It is the only way we can work around their censorship and ensure people receive news about issues that Democrats and the mainstream media suppress.
Scroll down to leave a comment below.
Subscribe to Our Newsletter