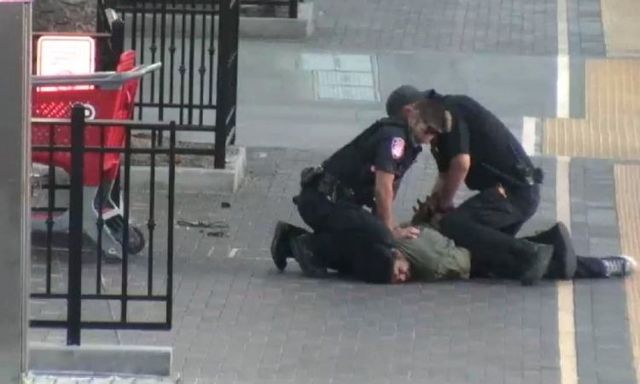 Months before George Floyd died on the evening of Oct. 15, 2019, in San Diego downtown a 24-year-old Angel Zapata Hernandez died while handcuffed and restrained at the hands of two Metropolitan Transit Service security workers, one of whom knelt on his neck for six minutes and seven seconds.
There was no media outrage because he probably had the wrong skin color.
For weeks during the pandemic spring and summer of 2020, thousands of San Diego residents and BLM/Antifa members took to the streets around the county, protesting racial injustice and police misconduct in the wake of the May 25 killing of George Floyd at the hands of Minneapolis police.
Floyd's death — with then-Officer Derek Chauvin's knee on Floyd's neck — was captured on a now-famous cellphone video that, once shared on social media, set off weeks of protests around the world.
The San Diego Metropolitan Transit System announced Monday that the family of a man who died after he was taken into custody near the Santa Fe Depot downtown will receive a $5.5 million settlement. MTS also released a video of the incident.
MTS Board Chair and County Supervisor Nathan Fletcher announced the settlement alongside Angel Zapata Hernandez's family. Hernandez died while in the custody of an MTS Code Compliance Inspector and a Transit System Security employee in October of 2019.
"MTS acknowledges that serious mistakes were made and that Angel's death never should have happened," Fletcher said. "Angel's life was precious and he should not have died. We can't let this happen again."
The MTS officer and security employee approached Hernandez, 24, who suffered from schizophrenia, October 15, 2019 after he was seen "acting erratically" near the railroad tracks, police said at the time. After the MTS officer confronted him, Hernandez ran for about 100 yards before he stopped and "submitted to handcuffing," MTS said in a news release.
"Concerned with his size and movements, the MTS and TSS officers took him to the ground, where they placed him in a prone, face down position," the news release said. "During restraint, Angel stopped breathing. Despite the administration of CPR, he never resumed breathing on his own and was declared dead at 9:28 p.m."
The official cause of death was listed as a sudden cardiopulmonary arrest while in a prone restraint.
WARNING: The video below contains graphic images and language that viewers may find disturbing.
** (Disclaimer: This video content is intended for educational and informational purposes only) **
At the very time, the protesters were filling the streets demanding change, police, and prosecutors were reviewing Zapata Hernandez's death, which like Floyd's was also captured on videotape in agonizing detail.
---
Social media censorship is suppressing the truth about the dangers of globalism and brutal cultures infiltrating the west. Please share this article wherever you can. It is the only way we can work around their censorship and ensure people receive news about issues that Democrats and the mainstream media suppress.
Scroll down to leave a comment below.
Subscribe to Our Newsletter