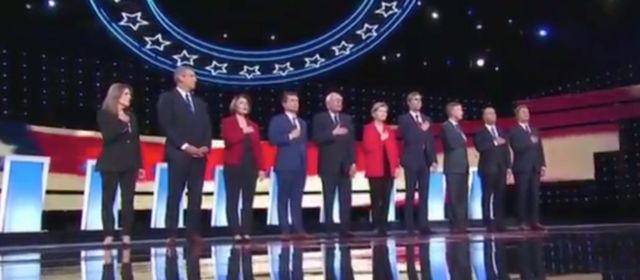 Rep. Tim Ryan, D-Ohio, was accused of protesting the national anthem on the debate stage.
Ryan was the only one of the 10 candidates on stage in Detroit not to put his hand over his heart during the national anthem.
Watch the video below:
His actions caused contoverises as Meghan McCains Tweeted:
"Put your hand over your heart for the star spangled banner Tim Ryan!!!" she wrote.


"I love this country as much as everybody else," Ryan said as he spoke to ABC News, brushing off the incident.
"The national anthem plays at football games, I put my hand on my heart for the Pledge of Allegiance," he said.
"I don't know, the choir was singing and it was great," he said, seemingly brushing off the incident," he said to ABC News.
What do you think about this incident?
---
Social media censorship is suppressing the truth about the dangers of globalism and brutal cultures infiltrating the west. Please share this article wherever you can. It is the only way we can work around their censorship and ensure people receive news about issues that Democrats and the mainstream media suppress.
Scroll down to leave a comment below.
Subscribe to Our Newsletter