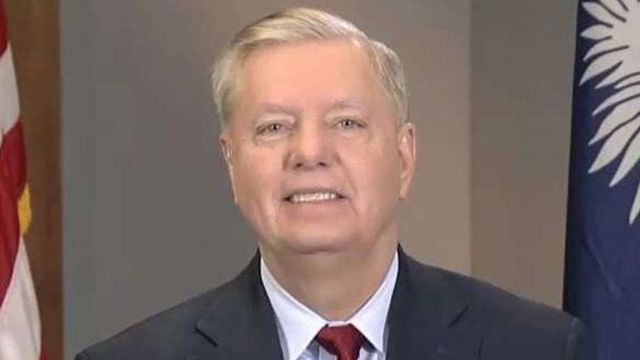 Sen. Lindsey Graham (R-SC) has transformed from a weak, cucked neocon butt boy of deceased Songbird John McCain to a heroic Chad amongst Chads over the course of the Trump administration. It's been a real sight to behold!
The South Carolina dandy's testicles have swollen in size, but they may be curling up back inside of him if recent Libya news is any indicator. Graham is biting the hand that feeds by counter-signaling Trump on Libya policy.
Politico explains Graham's betrayal of his alpha dog buddy Trump:
"Republican Sen. Lindsey Graham, Donald Trump's voluble Capitol Hill defender, is worried that the president's chatter is undermining efforts to stop Libya from falling into an all-out civil war.
Trump recently held a call with Libyan militia leader Khalifa Haftar that blindsided U.S. diplomats and confused Arab and North African countries about where U.S. policy actually stands. A readout of the call appeared to endorse Haftar — whose militia is currently waging a bloody fight seemingly to oust the country's internationally recognized government — only weeks after the State Department denounced the leader's tactics.
The call "has created a sense of imbalance" among parties in the Libyan conflict, Graham said in an interview Monday. "We need to reinforce the message that we're not picking one group over the others and we reject military force as the solution to the problems in Libya."
Graham, who was in Tunisia when news broke of the call and witnessed the shock waves it created, also urged the Trump administration to reopen the U.S. Embassy in Tripoli, saying it would give American diplomats more leverage in Libya.
Oil-rich Libya has descended into chaos since the 2011 Arab Spring movements, which ousted its longtime dictator, Moammar Gadhafi. Militias, criminal gangs and Islamist groups operate with impunity in much of Libya, while regional powers strive for influence in what some call a proxy war. The U.S. has called for political negotiations to end the violence.
For more than two weeks, Haftar's forces have been trying to capture the Libyan capital, Tripoli, in an apparent bid to depose the Government of National Accord, the ruling body that has been recognized internationally, including by the United States. More than 200 people are reported to have been killed in the fighting.
In a statement released Friday, the White House revealed that Trump had spoken earlier in the week with Haftar. The militia leader is in his 70s, previously lived in the U.S. and is thought to have cooperated with U.S. intelligence agencies."
Although Graham has emerged as the Senate's foremost p-ssyslaying Chad since Trump took office, he still shows neocon foreign policy tendencies and has even endorsed red flag laws that would eviscerate the 2nd Amendment in recent months.
God Emperor Pence may have to undo the therapy that worked wonders on Graham if he doesn't fall in line and fast. Then Lindsey will be the pantywaist he used to be once more. Kneel before Trump, Lindsey, or pay the consequences!
This was originally published on The Schpiel.
---
Social media censorship is suppressing the truth about the dangers of globalism and brutal cultures infiltrating the west. Please share this article wherever you can. It is the only way we can work around their censorship and ensure people receive news about issues that Democrats and the mainstream media suppress.
Scroll down to leave a comment below.
Subscribe to Our Newsletter