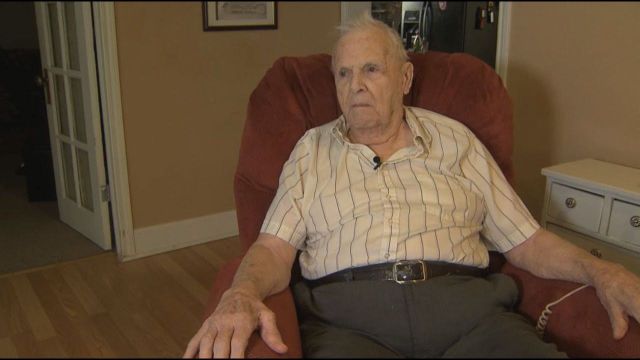 Veterans fought for and served this country… They above all else deserve to have a tremendous respect for all the citizens.
Desecrating graves of vets is one of the worst things.
A 92-year-old World War II veteran was injured when someone tried to vandalize the flag outside his Texas home.
Watch the video below!
A day before his birthday on July 11, the veteran said he heard someone outside his home pulling down his American flag from its pole, so he went outside to investigate, CBS reported.
"I walked out, hanging onto the railing and stepped down. That must've startled them," said Banks.
Banks was determined to protect his flag after someone shredded his previous American flag and ripped up his Marine flag about a year ago.
"They could see me. I couldn't see them," said Banks. "I turned and looked in the other direction, and about then – 'wham!' They knocked me down."
The person trying to take the flag down ran off while neighbors rushed in to help Banks.
Banks has numerous bumps and bruises and he said he even twisted his knee. "On this forearm, it's kind of sore and rough," he said. "Both of them. I've still got soreness here, but I'm durable. I can take it."
The injuries he suffered won't stop him from his life's mission to honor veterans who sacrifice and serve by displaying his American flag.
"I think we all had that same feeling, that the flag was our identity. We were Americans," said Banks. "The fact that I'm getting older, and the less I can do… at least I can still do that."
Banks said he didn't hear the suspect's voice so he is unsure if the person was a man or woman. In the meantime, his daughter, neighbors, and officers are keeping a close eye on him and his flags.
Thank you, Sir, for your love and support of this beautiful country!!
You are a true American HERO and may God bless you.
What do you think about this?
---
Social media censorship is suppressing the truth about the dangers of globalism and brutal cultures infiltrating the west. Please share this article wherever you can. It is the only way we can work around their censorship and ensure people receive news about issues that Democrats and the mainstream media suppress.
Scroll down to leave a comment below.
Subscribe to Our Newsletter