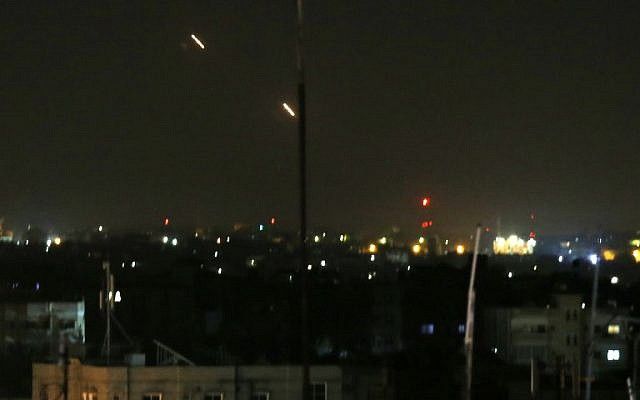 Israeli aircraft on Saturday struck Iranian forces near Damascus that had been planning to launch "killer drones" at targets in Israel, an Israeli military spokesman said.
"The strike targeted Iranian Quds Force operatives and Shiite militias which were preparing to advance attack plans targeting sites in Israel from within Syria over the last number of days," the military said in a statement.
In less than 24 hours Israel itself experienced similar attack.
Haaretz, an Israeli news organization, said that three were launched, two were intercepted by the Iron Dome, and one landed.
Three rockets were launched toward Israel from the Gaza Strip on Sunday evening; two were intercepted by the Iron Dome missile defense system, the Israeli military said.
Rocket alerts sounded earlier in the evening in the southern Israeli city of Sderot and in the Sh'ar HaNegev Regional Council bordering the Gaza Strip.
The Israeli military said in a statement that alarms were also activated in the community of Ibim, the Sapir College, and the kibbutzim of Nir Am and Or Haner.
Here's the video from the attack:
Do you think this attack is response to the Israeli attack on Iranian forces?
---
Social media censorship is suppressing the truth about the dangers of globalism and brutal cultures infiltrating the west. Please share this article wherever you can. It is the only way we can work around their censorship and ensure people receive news about issues that Democrats and the mainstream media suppress.
Scroll down to leave a comment below.
Subscribe to Our Newsletter