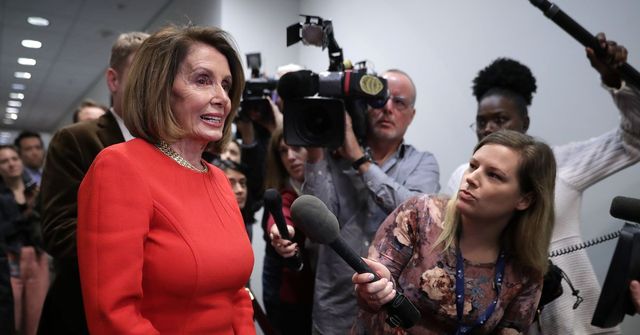 Had previous Administrations been doing their job President Trump would not be in need of billions of dollars to build a wall that should be in this day and age a wall already there needing maintenance money.
So President Trump declared a National emergency so that he can build the wall on our southern border and with that protect our country from illegal trafficking and illegal immigration!
Build the Wall campaign today decided to deliver a huge surprise to Nancy Pelosi!
Jack Murphy, the creator of this viral campaign, said, "We wanted a fun and creative way to tell the Democrats that we're serious about the wall, and what better way to send Pelosi a message than with thousands of bricks at her front door?"
Murphy writes for the website I Love My Freedom.
The bricks are being sent to Pelosi's California and Washington, D.C. offices.
Here is the letter that has been sent with each package:
Dear Nancy Pelosi,
Every brick you receive was ordered specifically for you by the American people.
Many of them even left a friendly message for you. As you'll see below, we've included them.
We hope you'll take some time and think about the way you're treating the safety of the American people.
All 7,982 bricks that we're sending you have been ordered by Americans across the country in less than nine days.
You'll be receiving weekly shipment of bricks to your Washington, D.C., and San Francisco office until you take care of your duty.
We thank you for your open mind and willingness to do what the American people have asked.
BUILD THE WALL AND PROTECT OUR COUNTRY!
Your Friends at the DJT Collector Club
This was a nice message to Nancy!
If you really, really love Americans (as much as President Trump does), then you will listen to the majority of us and build that wall. If you don't care about us Americans, then that will show your true colors and we will have to consider you a traitor to America. Why worry about the illegals more than your own fellow Americans? You can baby them when they enter the U.S. legally. Please think hard. If you prefer to allow any type of illegal into America, then I challenge you, Nancy, to keep your own doors unlocked all the time. Then you can welcome strangers at any time they want to find asylum. BUILD THAT WALL! Please!"
Spread this on ALL your platforms!
---
Social media censorship is suppressing the truth about the dangers of globalism and brutal cultures infiltrating the west. Please share this article wherever you can. It is the only way we can work around their censorship and ensure people receive news about issues that Democrats and the mainstream media suppress.
Scroll down to leave a comment below.
Subscribe to Our Newsletter