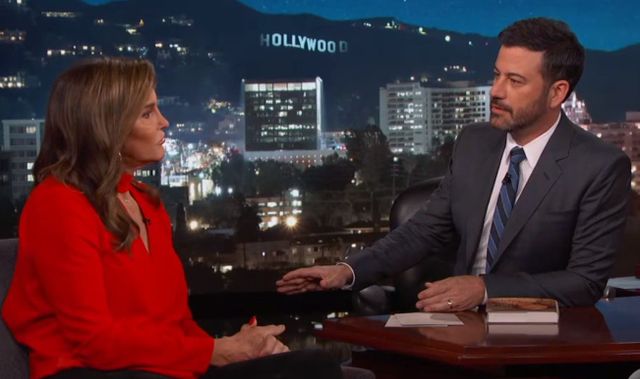 Via IJR:
Caitlyn Jenner has been making the rounds on late night television lately to promote her new book "The Secrets of My Life," but more has come out about the former Olympian's political views than the book itself.
Just a few days ago, she floated the idea of maybe running for Congress — as a Republican, of course.
Now, on last night's episode of "Jimmy Kimmel Live," Jenner was put in the hot seat about her conservative politics, despite being a transgender woman.
Jimmy asked: "Do you regret voting for Donald Trump?"
Jenner responded:
"I don't agree with everything he's doing … but I have always been — I'm older, I grew up in a country when you actually said the Pledge of Allegiance to the flag at school."
Her initial answer was met with a resounding applause from the audience. She continued, saying that she's never been an outright supporter of Trump, but that she's always faithful to the GOP:
"I never really outwardly came out and supported him. I supported whoever the Republican candidate was going to be, but the press kinda puts you there."
Jenner went on to discuss some of the things that she's liked about Trump's presidency so far, including the nomination of Neil Gorsuch and cutting back government regulations on business.
Watch the video to see the full segment:
Scroll down to leave a comment below.
---
Social media censorship is suppressing the truth about the dangers of globalism and brutal cultures infiltrating the west. Please share this article wherever you can. It is the only way we can work around their censorship and ensure people receive news about issues that Democrats and the mainstream media suppress.
Scroll down to leave a comment below.
Subscribe to Our Newsletter