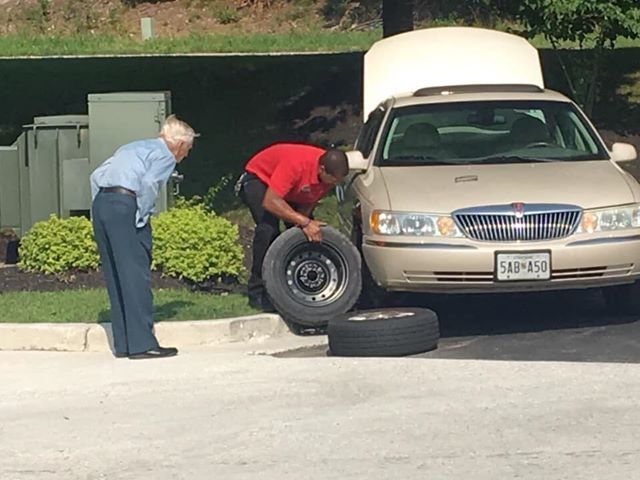 The veteran, known as Mr. Lee by the staff at the suburban Baltimore restaurant, pulled up to the Chick-fil-A in distress, telling employees he had a flat tire. That's when Daryl Howard, one of the managers at the restaurant, jumped in to change the tire for the veteran, the television station reported.
"As soon as he finished his sentence, Daryl informed me he needed to help this gentleman right now," Somoza said. "Daryl jumped on into action without hesitation."
He was able to fix Mr. Lee's tire in about 15 minutes, said Somoza — who took pictures showing the simple act of kindness. He added that Howard didn't know he was being photographed.
"His action of kindness was beautiful," Somoza said. "Daryl has always been so helpful to anyone in need and deserves this recognition." Rudy Somoza, another manager at the restaurant told Fox News.
According to fellow employees, Howard has worked there for about nine years.
"I thank God I was in the right position to be witness of this touching moment," his co-worker added.
---
Social media censorship is suppressing the truth about the dangers of globalism and brutal cultures infiltrating the west. Please share this article wherever you can. It is the only way we can work around their censorship and ensure people receive news about issues that Democrats and the mainstream media suppress.
Scroll down to leave a comment below.
Subscribe to Our Newsletter