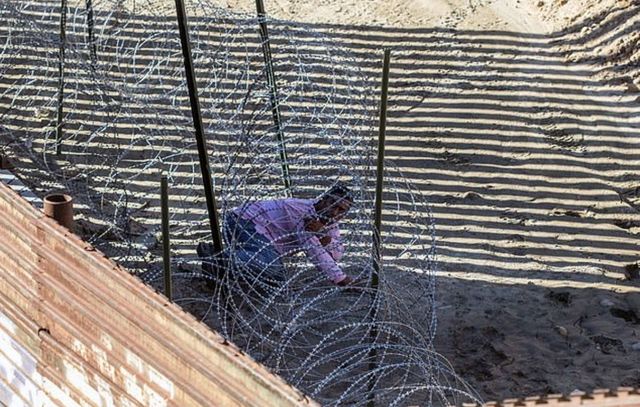 The razor wire barriers installed under President Donald Trump at the Mexican border fence are reportedly being stolen and used for home security in Tijuana.
U.S. Customs and Border Protection said the agency started using the wire to stop "increased border incursions" through gaps made by contractors who were replacing 14 miles of existing fence with steel bollards.
"Some concertina wire was stolen, but was later recovered by Mexican law enforcement partners and returned to the Border Patrol," said Ralph DeSio, public information officer for U.S. Customs and Border Protection in San Diego.
Some of the stolen fencings has already been replaced by contractors who were seen Monday on the U.S. side of the border fence.
Tijuana was named the most violent city in the world in 2018. The Citizens' Council for Public Security and Criminal Justice reports it saw an average of seven killings per day as gangs battle over drugs.
Officials in the border city said police arrested 15 people for stealing the wire.
When sold to a recycling facility, the steel wire fetches between 4 and 7 pesos per kilogram — about 15 to 35 cents.
Authorities in the United States and Mexico said they are working together to combat the wire theft. But while Mexican authorities said residents bought the stolen wire to improve security for their homes, the U.S. border agency said it could not confirm that concertina wire had been used for homes.
The wire isn't the only construction material used in the neighborhood. Abandoned tires are a common sight, typically refashioned and used for everything from retaining walls to the foundations of people's homes.
One of the reasons why we need a wall on our southern border but we also need tighter laws for people who approach our border un-identified!
---
Social media censorship is suppressing the truth about the dangers of globalism and brutal cultures infiltrating the west. Please share this article wherever you can. It is the only way we can work around their censorship and ensure people receive news about issues that Democrats and the mainstream media suppress.
Scroll down to leave a comment below.
Subscribe to Our Newsletter