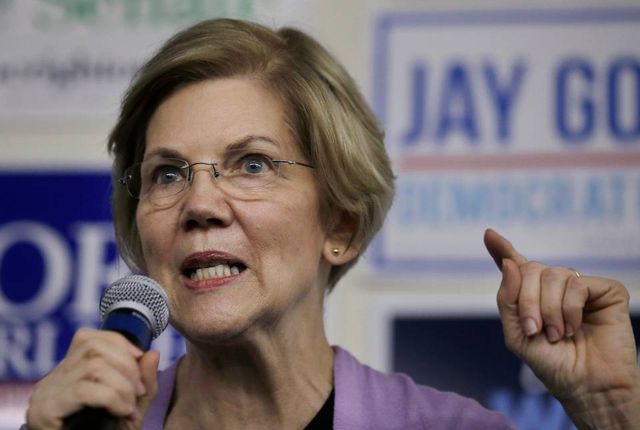 During a town hall held by CNN Monday night, Elizabeth Warren implied that President Trump and the Justice Department allow white supremacists to terrorize the country with no consequences.
She vowed to go after white supremacists should she win the White House in 2020.
We have to recognize the threat of white nationalism. We've got to call it out. As President of the United States, my Justice Department would go after white nationalists with full prosecution. #WarrenTownHall

— Elizabeth Warren (@ewarren) March 19, 2019
Her remarks are shocking! I did not realize that white supremacist were ravaging the country and mowing down any person of color that stands in their way.
It sounds horrifying!
However, if we take a look at justice department records:
Dozens of members of a white supremacist gang allegedly responsible for multiple acts of violence were charged in a superseding indictment unsealed today in the Eastern District of Arkansas.  
The indictment alleges that the New Aryan Empire (NAE) is a racketeering enterprise, which committed violent acts—attempted murder, kidnapping, and maiming—in support of its organization and its wide-ranging drug-trafficking operation.
Eighteen members and associates of a white supremacist gang, the Universal Aryan Brotherhood, have been charged for their alleged roles in conspiring in a racketeering enterprise, kidnapping, and drug conspiracy.
The charges were announced at a press conference today in Tulsa by U.S. Attorney Trent Shores for the Northern District of Oklahoma, Special Agent in Charge Tamera Cantu of IRS-Criminal Investigation's Dallas Field Office, and Assistant Special Agent in Charge James M. Wright of U.S. Immigration and Customs Enforcement's Homeland Security Investigations (HSI) Dallas Field Office.
Fifty-seven individuals, who are connected to various white supremacist gangs have been charged in a case led by the Texas Department of Public Safety Criminal Investigations Division and coordinated by the Texas Anti-Gang Center with participating partners such as the Dallas Police Department Criminal Intelligence Unit and the Drug Enforcement Administration. Erin Nealy Cox, U.S. Attorney for the Northern District of Texas made the announcement today at a press conference.
The 57 individuals were charged in conspiracy to commit kidnapping and drug trafficking conspiracies outlined in the Indictment. 42 of those defendants were arrested in last week's takedown operation, 9 were already in custody at various locations on unrelated state charges, and 6 have not yet been arrested.
Dozens of more cases can be found here.
It turns out that the Justice Department has been going after white supremacist since Donald Trump took office.
It seems Pocahontas is as accurate about these facts as she is about being a Native American.
---
Social media censorship is suppressing the truth about the dangers of globalism and brutal cultures infiltrating the west. Please share this article wherever you can. It is the only way we can work around their censorship and ensure people receive news about issues that Democrats and the mainstream media suppress.
Scroll down to leave a comment below.
Subscribe to Our Newsletter