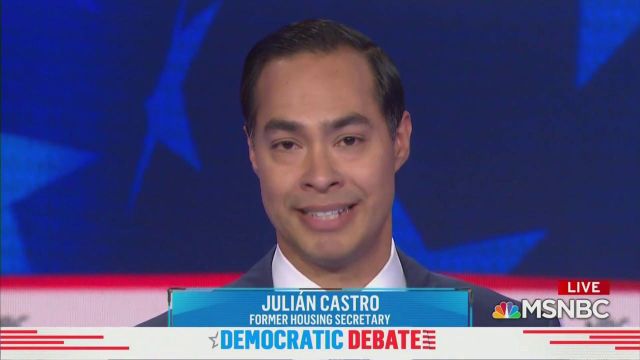 My ancestors LEGALLY immigrated here from Europe and made their children learn and speak English. They made their children love and respect this culture, American culture!
They made all of us fall in love in America!
But it seems times have changed and in case you've missed last night Democratic Presidential debate we have a video for you where you will hear a lot of Spanish!
One of the candidates went one step further and made his closing statement in Spanish!
Julian Castro, the former secretary of the U.S. Department of Housing and Urban Development, introduced himself as a presidential candidate in Spanish before switching back to English, saying, "The very fact that I can say that tonight shows how the progress that we have made in this country."
"Like many of you, I know the promise of America. My grandmother came here when she was seven years old as an immigrant from Mexico, and just two generations later, one of her grandsons is serving in the United States Congress, and the other one is running for President of the United States," Castro said, referencing his brother, Joaquin Castro, who represents Texas' 20th district.
"If I'm elected president, I will work hard every day so that you and your family[ies] can have good health care, your child can get a good education, and that you can have good job opportunities whether you live in a big city or small town," he continued.
"And on Jan. 20, 2021," Castro concluded, "We'll say, 'Adios' to [President] Donald Trump."
WATCH:
Other PResidential candidates also spoke on Spanish!
So all in all it's not progress to speak a foreign language on a presidential debate it's mistreatment to your own language and culture!
---
Social media censorship is suppressing the truth about the dangers of globalism and brutal cultures infiltrating the west. Please share this article wherever you can. It is the only way we can work around their censorship and ensure people receive news about issues that Democrats and the mainstream media suppress.
Scroll down to leave a comment below.
Subscribe to Our Newsletter