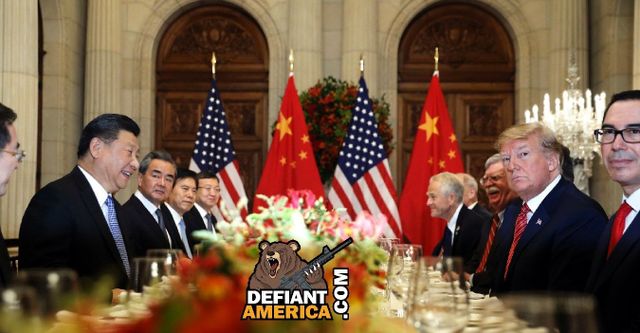 by Daveda Gruber:
On Sunday President Donald Trump revealed that China had agreed to rollback its tariffs on American automobiles.
The rollback would be below 40 percent.
Trump tweeted:
China has agreed to reduce and remove tariffs on cars coming into China from the U.S. Currently the tariff is 40%.

— Donald J. Trump (@realDonaldTrump) December 3, 2018
My meeting in Argentina with President Xi of China was an extraordinary one. Relations with China have taken a BIG leap forward! Very good things will happen. We are dealing from great strength, but China likewise has much to gain if and when a deal is completed. Level the field!

— Donald J. Trump (@realDonaldTrump) December 3, 2018
The G20 Summit in Buenos Aires, Argentina turned out to be the perfect place for Trump to make a deal.
Trump sat down with Chinese President Xi Jinping at the G20 Summit for negotiation talks and dinner.
China's tariff's on U.S. imported automobiles was at 15 percent from 25 percent earlier this year.
China then raised tariff rates to 40 percent in the midst of the growing trade war with the U.S.
With a 90-day cease-fire, the two leaders reportedly agreed on, Trump will delay the scheduled U.S. tariff increase.
The world's two most-powerful economies will negotiate during this time. The price of admittance to the enormous Chinese market has the administration complaining that China systematically steals trade secrets and forces the U.S. to hand over sensitive technology as.
China has agreed to buy what the White House called a "not yet agreed upon, but very substantial" amount of U.S. products in return.
This would help narrow America's cavernous trade deficit with China.
It is still not clear what the timetable is for China's lowering of tariffs below 40 percent.
Did the president just make a deal? That's what Trump does. He knows the "Art of the Deal."
---
Social media censorship is suppressing the truth about the dangers of globalism and brutal cultures infiltrating the west. Please share this article wherever you can. It is the only way we can work around their censorship and ensure people receive news about issues that Democrats and the mainstream media suppress.
Scroll down to leave a comment below.
Subscribe to Our Newsletter