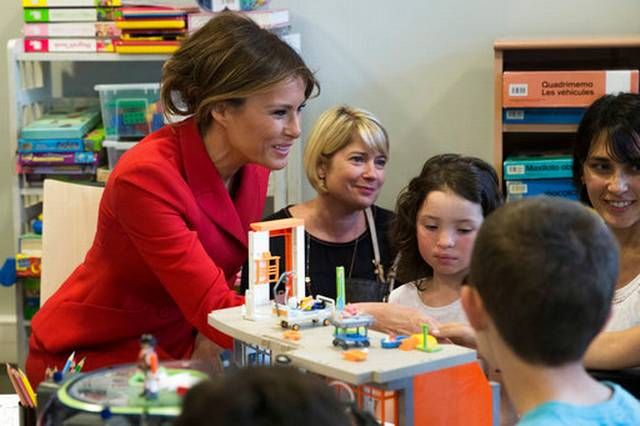 We have been blessed to have many beautiful, smart, and talented First Ladies. She is proven to be a very kind person and her latest actions are just a confirmation of her kindness! But sadly, just like President Trump, Melania is not immune to the disgusting low attacks by leftists and the media.
They are the enemy of Trump and his family. If there was something bad about them no matter true or false, the mainstream media would be all over it.
Melania too has been attacked multiple times and for multiple reasons…some of them are not even worth mentioning. But today, she proved them wrong!
Shortly after touching down in Paris, Melania was whisked off to Necker Hospital where she visited the Enfants Malades wing.
Beaming in her red skirt suit, she greeted the children with soft 'bonjours' before taking her seat at a play table.
The 47-year-old then introduced herself enthusiastically.
'Je m'appelle Melania. Et toi?' she gestured to one child, urging them to share their name.
When one of the children replied in English, she commended them: 'You speak very good English, very good.'
French is one of six languages the first lady is believed to speak. Slovenian is her native tongue and was the first she learned.
She is also widely reported to speak Italian, German and Serbo-Croatian. Her grasp of Italian and French came from the four years she spent living and working as a model in Milan and Paris between 1992 and 1996, when she moved to New York.
God Bless America, President and Mrs. Trump for their courage to stand up for what is right!
Share this and scroll down to leave a comment below!
---
Social media censorship is suppressing the truth about the dangers of globalism and brutal cultures infiltrating the west. Please share this article wherever you can. It is the only way we can work around their censorship and ensure people receive news about issues that Democrats and the mainstream media suppress.
Scroll down to leave a comment below.
Subscribe to Our Newsletter