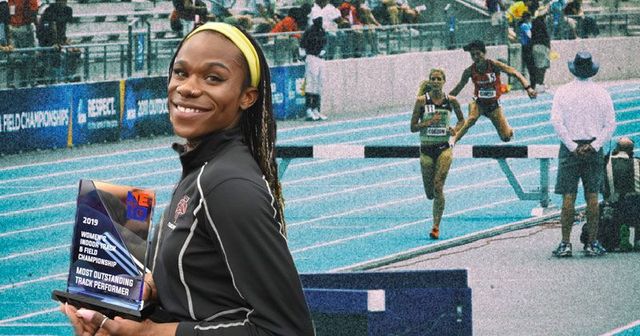 Society has decided to allow gender confused men to dictate new rules in competitive sports. All this was done in the name of political correctness. Isn't biology the reason we have separate sports competitions?
It seems that biology isn't a leftist favorite subject!
A top-ranked runner in NCAA women's track is dominating the competition and setting records one year after competing as a man at the same level.
Franklin Pierce University senior CeCe Telfer leads the NCAA's Division II women's division in the 55 meter dash and 55 meter hurdle events. Telfer led Franklin Pierce's women's track team into the top 25 rankings for the first time in program's history, local newspaper The Keene Sentinel reported in December. The New Hampshire college is ranked 14th in DII.
"Senior CeCe Telfer (Lebanon, N.H.) won three Northeast-10 Conference titles on Sunday, to lead the Franklin Pierce University women's track & field team and earn Most Outstanding Track Athlete honors at the NE10 Championships, hosted by American International College, on the campus of Smith College," reads a Feb. 17 article the school's athletic department posted.
Telfer broke the conference finals record at the meet and qualified for three different events at March's NCAA championships.
Telfer is one of the fastest runners in NCAA women's track and field at any division — not just at the DII level. Telfer's best time in the 55-meter dash is tied with the third-fastest runner at the women's DI level.
Telfer previously ran a variety of events for Franklin Pierce's men's team, during most of which time he went by the first name Craig, according to school records.
Eventually, one of these dudes will be playing field hockey or wrestling or something and end up crushing some poor girl and causing serious injuries. Then the parents will sue the pants off the NCAA. That's what it will take before people realize this is absurd and unfair to female athletes. Start letting dudes play in and dominate the WNBA or pro women's tennis and watch how fast people change their tune.
---
Social media censorship is suppressing the truth about the dangers of globalism and brutal cultures infiltrating the west. Please share this article wherever you can. It is the only way we can work around their censorship and ensure people receive news about issues that Democrats and the mainstream media suppress.
Scroll down to leave a comment below.
Subscribe to Our Newsletter