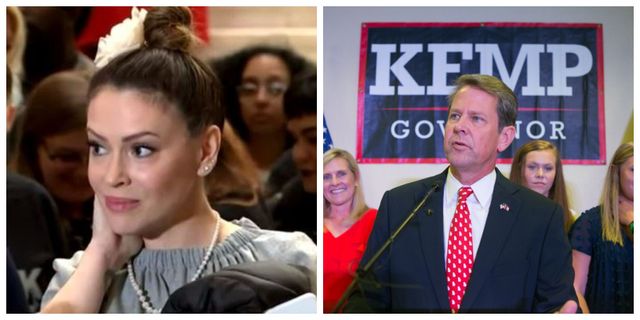 The Georgia House has voted yes on the "heartbeat bill."
The measure would outlaw abortion as soon as a doctor can detect a heartbeat in a fetus, limiting the window of time to 6 weeks after gestation.
The bill passed the Georgia Senate on March 22 and has returned to the House for review of changes. The House voted 92 to 78 to approve the bill, which now heads to Gov. Brian Kemp's desk to be signed into law. Lawmakers voted down a motion to reconsider action.
Left-wing celebrities Alyssa Milano, Alec Baldwin, Amy Schumer, and more than 40 other Hollywood luminaries signed a letter threatening to push TV and film production out of Georgia if the state's contentious "heartbeat" abortion bill becomes law, the Atlanta Journal-Constitution reported.
Other celebrity signees included Rosie O'Donnell, Sarah Silverman, Sean Penn, Patton Oswalt, Gabrielle Union, Don Cheadle, Mia Farrow, Essence Atkins, Uzo Aduba, Christina Applegate, Ben Stiller, Colin Hanks, Bradley Whitford, and Amber Tamblyn, the Journal-Constitution said.
And Georgia governor just gave the perfect answer to their letter.
Georgia Gov. Brian Kemp plans to sign a bill protecting unborn babies from abortion. After his legal team vets the legislation, Kemp plans to sign the measure to ban abortions when an unborn baby's heartbeat begins — despite a threat by members of the Hollywood elite to boycott the state if he does.
Kemp, a pro-life Republican, responded to the criticisms by saying he will sign the law as he promised voters and not be swayed by Hollywood.
"We value life in our state," Governor Kemp told WSB's Scott Slade on "Atlanta's Morning News."
The governor said he is not concerned about talk of an economic boycott, if he signs the measure. "I don't believe there will be dire consequences for supporting life in our state," Kemp told WSB.
As for when he may sign it, Governor Kemp said, "We really haven't set a date for any of the bills to sign yet." He told AMN, "We've got a thorough review process that we go through on every bill just to make sure there's nothing in there that we missed."
This is the second time Governor Kemp has said he's unconcerned with Hollywood's threats.
---
Social media censorship is suppressing the truth about the dangers of globalism and brutal cultures infiltrating the west. Please share this article wherever you can. It is the only way we can work around their censorship and ensure people receive news about issues that Democrats and the mainstream media suppress.
Scroll down to leave a comment below.
Subscribe to Our Newsletter