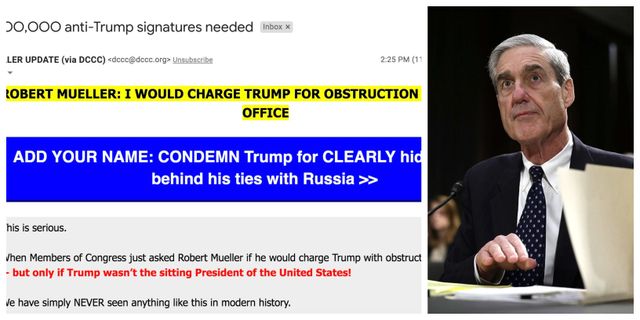 "Painful" and "disaster" have become refrains online among several high-profile media figures in reference to Special Counsel Robert Mueller's congressional testimony on Wednesday. During the much-anticipated hearing hosted by the Democrat-controlled House Judiciary Committee, Mueller's performance was so "shaky," "confused" and "sluggish" that even sympathetic members of the mainstream media began to question his health.
Also, Jay Sekulow, legal counsel to President Donald Trump, released a statement Wednesday declaring the "case is closed" on alleged collusion between the Trump campaign and Russia.
Sekulow's statement came during Special Counsel Robert Mueller's testimony in front of the House Intelligence Committee. Mueller reiterated several points from his report, including that his team "did not reach a determination" as to whether Trump committed a crime.
But for the Dems the case will never be closed.
From the Daily Caller:
The Democratic Congressional Campaign Committee (DCCC) falsely claimed that Mueller testified that he would charge President Donald Trump with obstruction of justice if he weren't president.
During his morning testimony before the House Judiciary Committee, Mueller appeared to agree with Democratic California Rep. Ted Lieu, who asserted that Mueller's office didn't charge Trump with obstruction because of Department of Justice policies against indicting sitting presidents.
But Mueller corrected the record when he began his afternoon testimony in front of the House Intelligence Committee — well before the DCCC's misleading email blast.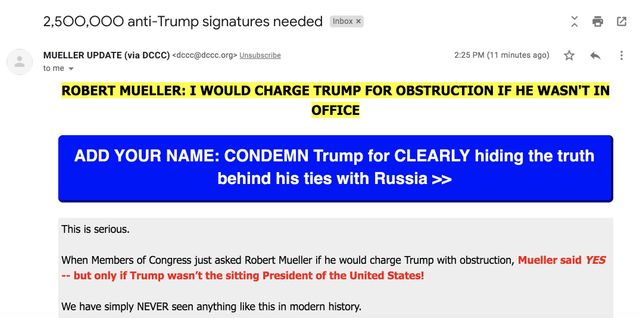 "I want to go back to one thing that was said this morning by Mr. Lieu, who said, and I quote, 'you didn't charge the president because of the OLC opinion,'" Mueller said in his correction.
"That is not the correct way to say it. As we say in the report, and as I said in the opening, we did not reach a determination as to whether the president committed a crime."
Robert Mueller has truly hurt his reputation. Confused, lack of concise answers, and a really bad memory. He can't answer most of the questions maybe because he did not write the full report.
---
Social media censorship is suppressing the truth about the dangers of globalism and brutal cultures infiltrating the west. Please share this article wherever you can. It is the only way we can work around their censorship and ensure people receive news about issues that Democrats and the mainstream media suppress.
Scroll down to leave a comment below.
Subscribe to Our Newsletter