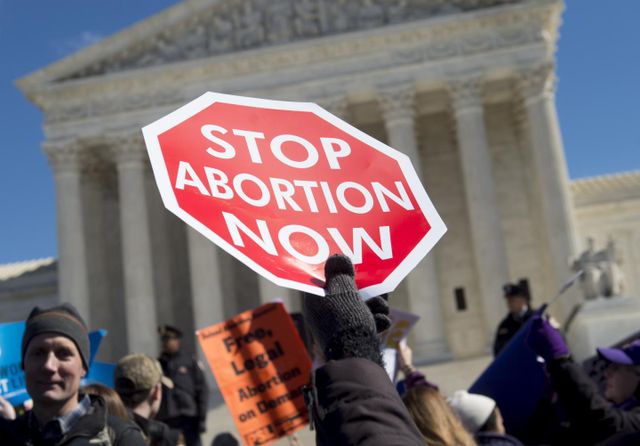 A fetal heartbeat bill is a form of proposed abortion legislation in the United States of America which makes abortions illegal as soon as the fetus' heartbeat can be detected, based on the conclusion that a human heartbeat is enough to indicate a person. Fetal heartbeats can be detected at about six to seven weeks into the pregnancy!
Mississippi, Florida, Kentucky, Ohio and South Carolina considered this bill and now they are joined by Georgia and Tennessee.
But today a huge win for the pro-life movement was won because the judges in the Sixth Circuit Court of Appeals upheld a Kentucky law that requires doctors to play the sound of the fetal heartbeat and show and describe the ultrasound of the unborn child for the prospective mother before she undergoes an abortion.
The Court ruled that Kentucky's "Ultrasound Informed Consent Act" doesn't violate the Constitution by compelling doctors to play the sound of the heartbeat and the ultrasound before their patients.
The ruling came in a split decision; Judge John Bush, writing for the majority, stated of the bill, H.B. 2:
H.B. 2 provides relevant information. The information conveyed by an ultrasound image, its description, and the audible beating fetal heart gives a patient greater knowledge of the unborn life inside her. This also inherently provides the patient with more knowledge about the effect of an abortion procedure: it shows her what, or whom, she is consenting to terminate. That this information might persuade a woman to change her mind does not render it suspect under the First Amendment. It just means that it is pertinent to her decision-making.
The new polling data from Marist University shows one of the biggest pro-life shifts in history. Americans moved towards the pro-life direction on abortion by a 17% margin in one month after Democrats defending allowing babies to die in infanticide and legalized abortions up to birth in the state of New York.
In a substantial, double-digit shift, according to the poll, Americans are now as likely to identify as pro-life (47 percent) as pro-choice (47 percent). Just last month, a similar survey conducted by The Marist Poll found Americans more likely to identify as pro-choice than as pro-life by 17 percentage points (55 to 38 percent). Democrats moved in their pro-life identity from 20 percent to 34 percent.
The shift was led by Democrats and those under 45 years old, according to a survey taken Feb.12-17 in the wake of efforts in several states to legalize abortion up until birth. Among Democrats, the gap between pro-life and pro-choice identifiers was cut in half from 55 percent to 27 percent. The number of Democrats now identifying as pro-life is 34 percent, up from 20 percent last month, while the number identifying as pro-choice fell from 75 percent to 61 percent. Younger Americans also moved dramatically, now dividing 47 percent pro-life to 48 percent pro-choice. One month ago, the gap was almost 40 percentage points with only 28 percent identifying as pro-life and 65 percent identifying as pro-choice.
---
Social media censorship is suppressing the truth about the dangers of globalism and brutal cultures infiltrating the west. Please share this article wherever you can. It is the only way we can work around their censorship and ensure people receive news about issues that Democrats and the mainstream media suppress.
Scroll down to leave a comment below.
Subscribe to Our Newsletter