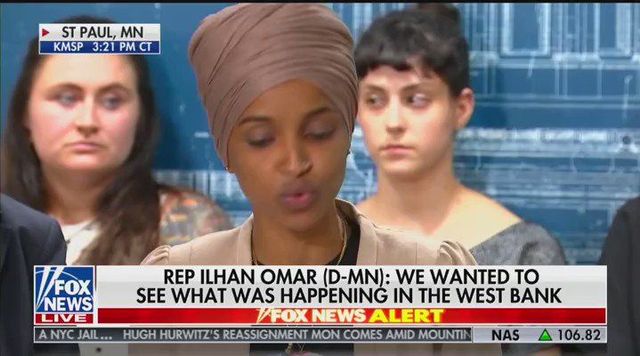 Israel did not permit two controversial Democratic lawmakers to enter the country, Channel 12 reported Thursday afternoon.
Omar (D-Minn.) and Tlaib (D-Mich.) planned to tour the flashpoint site of the Temple Mount in the Old City of Jerusalem, as well as the West Bank, according to Channel 13.
The Israeli government announced Thursday it would not allow Democratic Reps. Rashida Tlaib of Michigan and Ilhan Omar of Minnesota to enter their borders for a planned trip into Palestinian territory, citing the two lawmakers' support for the Boycott, Divestment and Sanctions (BDS) movement. Under Israeli law, anyone who supports the boycott of Israel may be banned from the country.
Their trip was planned by Miftah, a nonprofit organization led by Palestinian lawmaker and veteran peace negotiator Hanan Ashrawi, according to the Washington Post.
Now The two Democrats also threatened US aid to the Jewish State.
Rep. Ilhan Omar: We give Israel more than $3 million in aid every year. This is predicated on them being an important ally in the region and (airquotes) "the only democracy" in the Middle East. But denying a visit to duly elected members of Congress is not consistent with being an ally and denying millions of people freedom of movement, or expression or self determination is not consistent with being a democracy. We must be asking as Israel's ally the Netanyahu government stop the expansion of settlements on Palestinian land and ensure full rights to Palestinians if we are to give them aid. These are not just my views.
Watch the video below:
This comments came after Israel decided to ban Ilhan Omar and Rashida Tlaib from entering Israel, but as a reminder their trip was funded by a group that has expressed sympathy for terrorists.
Sponsorship of Omar and Tlaib's now-botched trip was not the first for Miftah. The organization sponsored a trip for a group of Democratic lawmakers in 2016, where they met with an alleged member of the Popular Front for the Liberation of Palestine, a terrorist organization.
---
Social media censorship is suppressing the truth about the dangers of globalism and brutal cultures infiltrating the west. Please share this article wherever you can. It is the only way we can work around their censorship and ensure people receive news about issues that Democrats and the mainstream media suppress.
Scroll down to leave a comment below.
Subscribe to Our Newsletter