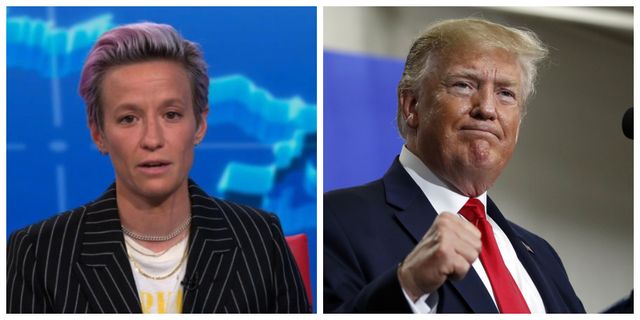 Following their repeat World Cup win in Lyon, France, the team was celebrating on the field and posing for photos when Long dropped the flag she was holding. She and Rapinoe then stepped forward, leaving the flag underfoot. They continued to pose for the cameras as one of their teammates rushed forward to grab the flag.
But these two athletes can't be a clear example of what our country has because a number of American athletes have gone above and beyond to show respect for the national anthem and the country's flag they represent.
But it is what it is people seem to give damn about what Meghan Rapinoe has to say!
She revealed her parents dirty little secret during her latest interview.
Via the New York Post:
US women's soccer team co-captain Megan Rapinoe revealed that her father voted for President Trump in the 2016 election — despite her once referring to herself as "walking protest" to his administration.
The World Cup champion said that not only does her dad support the president, but both her parents regularly tune into Fox News, which covered her spat with Trump after she balked at the idea of visiting the White House.
"I'm very similar to how [my parents] are, even though I think my dad voted for Trump and I'll say, 'I don't get it. How are you simultaneously as proud as punch of me, and watching Fox News all the time, [who are doing] takedowns of your daughter?'" Rapinoe said in an interview Saturday with the Guardian.
Criticizing her parents' political leanings, Rapinoe, who grew up in Redding, California, continued, "That's why I'm like, 'You guys need to go to therapy.'"
She can't figure out why her parents still love her and are proud of her while disagreeing with her politics? I'm pretty sure I know who needs the therapy between the two.
---
Social media censorship is suppressing the truth about the dangers of globalism and brutal cultures infiltrating the west. Please share this article wherever you can. It is the only way we can work around their censorship and ensure people receive news about issues that Democrats and the mainstream media suppress.
Scroll down to leave a comment below.
Subscribe to Our Newsletter