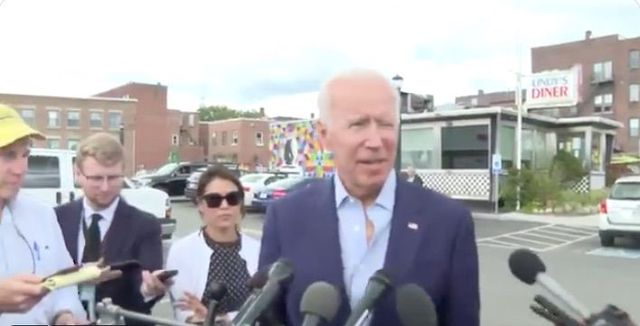 Former Vice President Joe Biden had another 'gaffe' yet again on the campaign trail on Saturday. This time the 76-year-old told media how much he loved being in the state of Vermont…except, he was actually in New Hampshire. This is just the latest in a litany of verbal miscues he has had so far on the presidential campaign trail. 
"What's not to like about Vermont in terms of the beauty of it?" Biden said to the crowd gathered in, again, New Hampshire.
"And what a neat town. I mean this is sort of a scenic, beautiful town … everybody has been really friendly. I like Keene a lot," he said.
Watch the video below:
Biden has made another in a long line of mistakes and now his brain doctor is speaking out about it.
Biden's neurosurgeon, Dr. Neal Kassell said he has seen no signs of brain damage in the 76-year-old.
He is every bit as sharp as he was 31 years ago. I haven't seen any change," he said in an interview with Politico.
"I can tell you with absolute certainty that he had no brain damage, either from the hemorrhage or from the operations that he had. There was no damage whatsoever," he said.
Maybe the American people would like to hear a second opinion from someone that is not a close friend to Joe?
Biden, the 76-year-old former vice-president and senator from Delaware enter a crowded field of competitors, but polls in recent weeks have consistently shown him leading the pack, perhaps because of his experience and lengthy record in office.
But unlike some of his much younger opponents, it's his decades in the public eye, and in particular his well-documented history of confusing or downright embarrassing gaffes and misstatements, that may end up working against him.
---
Social media censorship is suppressing the truth about the dangers of globalism and brutal cultures infiltrating the west. Please share this article wherever you can. It is the only way we can work around their censorship and ensure people receive news about issues that Democrats and the mainstream media suppress.
Scroll down to leave a comment below.
Subscribe to Our Newsletter