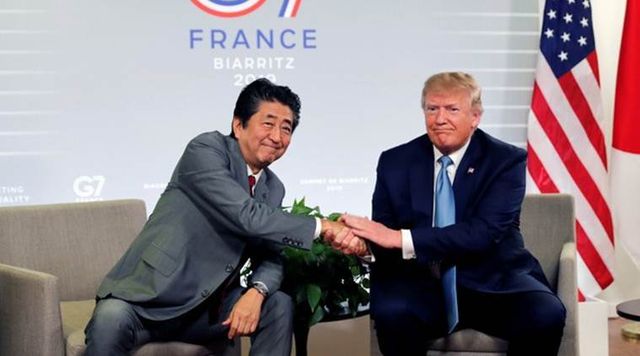 The ongoing trade war is in the focus of the attention on the G-7 summit.
Speaking to reporters at the G7 summit in Biarritz, France, the president was asked whether he had thought twice about his decision to impose tariffs.
"Sure. Why not?" he replied, adding that "I have second thoughts about everything."
However, he insisted that he had pushed ahead due to China's "outrageous" behaviour.
"Presidents and administrations allowed them to get away with taking hundreds of billions of dollars out every year and putting it into China," he said.
But the mainstream media did not focused on the most important deal of the day.
Few moments ago President Trump re-tweeted a video where he and Japan Prime Minister announced a trade deal that could worth billions.
"We've been working on a deal with Japan for a long time. And we've agreed in principle," President Trump told the press at the G7 Summit.
"We successfully reached consensus with regard to the core elements related to agricultural and industrial trade," Abe told the media via a translator. "We still have some remaining work that has to be done at the working level."
The deal will primarily benefit American farmers.
"With regard to the potential purchase of American corn, in Japan, we are now experiencing insect pests on some agricultural products," Abe added. "And there is a need for us to buy some of the agricultural products."
"This is a tremendous deal for the United States. It's a really tremendous deal for our farmers," President Trump added.
Watch the announcement below:
This is a huge win for America and President Trump and we can be sure that the mainstream media will not give much attention to this.
---
Social media censorship is suppressing the truth about the dangers of globalism and brutal cultures infiltrating the west. Please share this article wherever you can. It is the only way we can work around their censorship and ensure people receive news about issues that Democrats and the mainstream media suppress.
Scroll down to leave a comment below.
Subscribe to Our Newsletter