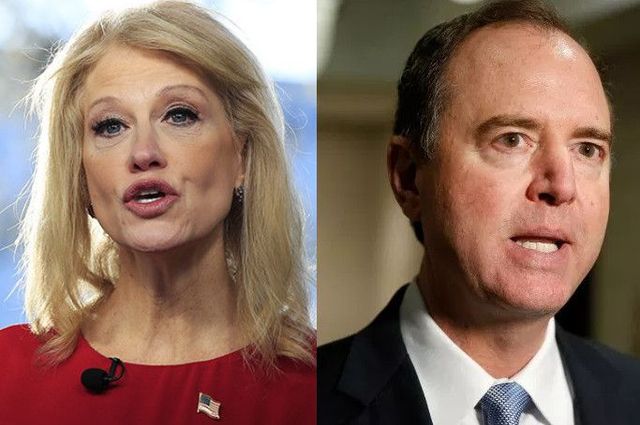 Lying Adam Schiff keeps on lying and doubles down on Russian Collusion since he has invested his entire reason for living in spreading Russian Collusion around on the liberal media non-stop for 2 years.
Kellyanne Conway came out and declared that Schiif should resign for lying all this time and he continues to do so.
Conway wasn't alone in her demand that Schiff step down. House Minority Leader Kevin McCarthy (R-Calif.) also called on him to resign, saying Schiff "has met the standard that he has imposed on other members of Congress of when they should step back from their positions. He has exceeded that standard, and there is no question he should step down from the Intel chairmanship."
The Washington Times reported:
White House adviser Kellyanne Conway said Monday Rep. Adam Schiff should resign following President Trump being cleared of collusion by special counsel Robert Mueller's report.
"He ought to resign today. He's been on every TV show 50 times a day for practically the last two years promising Americans that this president would either be impeached or indicted," Mrs. Conway, White House counselor to the president, said on Fox News' "Fox & Friends."
"He has no right as somebody who has been peddling a lie day after day unchallenged and not under oath," she said of Mr. Schiff, California Democrat and chairman of the House Intelligence Committee. "Somebody should've put him under oath and said, 'Do you have evidence? Where is it?' "
Mrs. Conway also labeled any investigation looking into collusion charges will be "partisan."
"Bob Mueller already ran the fair and the full investigation and any partisan politicized from here on in will never have the credibility of the Mueller investigation," she said.
Mr. Schiff said on one show there was "pretty compelling evidence" Mr. Trump colluded with Russia during the 2016 election.
Watch the video:
---
Social media censorship is suppressing the truth about the dangers of globalism and brutal cultures infiltrating the west. Please share this article wherever you can. It is the only way we can work around their censorship and ensure people receive news about issues that Democrats and the mainstream media suppress.
Scroll down to leave a comment below.
Subscribe to Our Newsletter