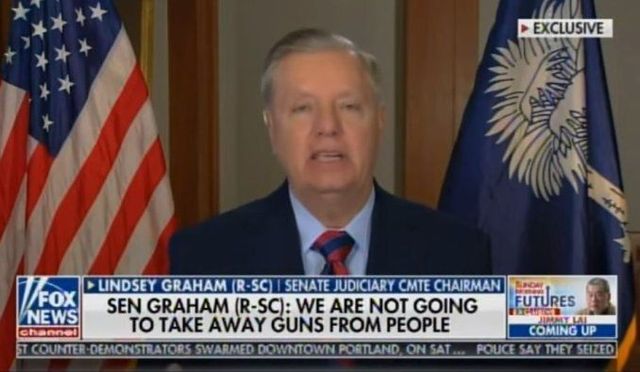 Senate Judiciary Committee Chairman Lindsey Graham went on Sunday Morning Futures with Maria Bartiromo and talked about guns and hate sites'
Lindsey said that new gun laws and shutting down offensive websites is a priority.
Lindsey Graham: The president is more determined than ever to get something done that makes sense. We're not going to take people's guns away… We want to keep guns out of the hands of dangerous people who are hateful or mentally ill. The red flag legislation grants the states that have these red flag laws, the president is focused on that. Working with Senator Manchin we can perhaps enhance background checks. The guy in Philadelphia had been convicted 6 or 8 times. How the hell did he get a gun to begin with. The guy in El Paso was on one of these white supremacist hate sites where they radicalize each other. We should shut those sites down. The guy in Dayton was kicked out of school because he had a rape list, a kill list. He was clearly violent. Why did that guy get a gun to begin with.
Watch the video below:

Serious discussions are taking place between House and Senate leadership on meaningful Background Checks. I have also been speaking to the NRA, and others, so that their very strong views can be fully represented and respected. Guns should not be placed in the hands of mentally ill or deranged people. I am the biggest Second Amendment person there is, but we all must work together for the good and safety of our Country. Common sense things can be done that are good for everyone! President Trump tweeted last week.
What do you think about this?
---
Social media censorship is suppressing the truth about the dangers of globalism and brutal cultures infiltrating the west. Please share this article wherever you can. It is the only way we can work around their censorship and ensure people receive news about issues that Democrats and the mainstream media suppress.
Scroll down to leave a comment below.
Subscribe to Our Newsletter