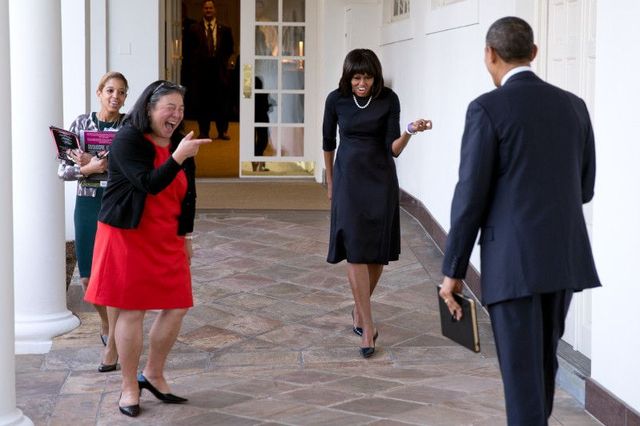 Chief of staff for former first lady Michelle Obama, Tina Tchen, contacted Cook County State's Attorney Kim Foxx to request that the police department let the FBI take over the investigation into hate crime hoaxer Jessie Smollett.
If that isn't enough, Tchen is also a friend of Mayor Rahm Emanuel's wife, Amy Rule.
Texts and emails provided by the Cook County State's Attorney's Office show that Tchen told Foxx that Smollett's family had "concerns" about how the Chicago PD were handling the case against Smollett. Tchen, encouraged Foxx to contact Chicago Police Superintendent Eddie Johnson to ask him to cede the investigation to federal authorities.
It seems that Foxx was a go between for one of Smollett's relatives.
According to the Chicago Tribute. the trail of text messages that exposed this scheme goes like this:
"Spoke to the Superintendent Johnson," Foxx said in an email to Tchen on Feb. 1 obtained by reporters. "I convinced him to Reach out to FBI to ask that they take over the investigation."
That day, Foxx texted a Smollett relative.
"Spoke to the superintendent earlier, he made the ask," Foxx wrote. "Trying to figure out logistics. I'll keep you posted."
"Omg this would be a huge victory," the Smollett relative replied.
"I make no guarantees, but I'm trying," Foxx replied.
"I understand," the Smollett relative typed. "I appreciate the effort."
Foxx recused herself from the investigation before Smollett was charged and her first deputy, Joe Magats, is overseeing the case.
John Kas, reporter for the Chicago Tribune had this to say:
You know who doesn't get to call Cook County State's Attorney Kim Foxx and text her and have omg moments?
The victims of real crimes, not fake ones. Crimes with real blood and real pain, floating face down in Chicago's river of violence.
Like 1-year-old Dejon Irving, shot in the gang wars just about the time Smollett wanted to become a hero.
Or what of the families torn up when the grandfather or grandmother die, weeks, sometimes months, after being attacked in street robberies that are forgotten? Or the mothers and fathers who have lost their sons and daughters to killers who are never brought to justice?
They don't get the Kim Foxx omg moment, but they're not stars, like Jussie Smollett.
Of course Tchen and Foxx will both slide on this attempt to interfere in justice because they are Democrats.
---
Social media censorship is suppressing the truth about the dangers of globalism and brutal cultures infiltrating the west. Please share this article wherever you can. It is the only way we can work around their censorship and ensure people receive news about issues that Democrats and the mainstream media suppress.
Scroll down to leave a comment below.
Subscribe to Our Newsletter