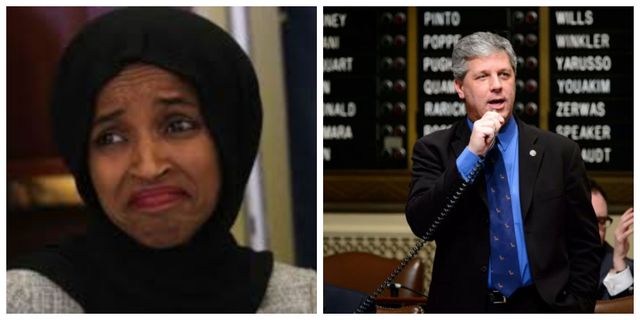 State Rep. Steve Drazkowski said this month that he is submitting paperwork to the Minnesota Department of Revenue and IRA to look into Rep. Omar's fraudulent taxes from 2014 and 2015, The Minnesota Sun reported.
As The Minnesota Sun reported, Omar filed joint tax returns in 2014 and 2015 with Ahmed Hirsi, even though she was married to Ahmed Nur Said Elmi from 2009 to 2017. Omar claims that she "corrected" those tax returns, though Drazkowski alleges that she may have improperly used campaign funds to do so.
Yesterday representative Steve Draz has called on district judges in Hennepin County to investigate Democrat Rep. Ilhan Omar for committing perjury in a 2017 application for a divorce from her alleged brother, Ahmed Elmi, who she married in 2009.
Video below:
Earlier this year, a report claimed that Ilhan Omar and Ahmed Hirsi filed joint tax returns in at least 2014-2015.
Yet Ilhan Omar was legally married to another man from 2009-2017.
A sitting congresswoman may have filed EIGHT YEARS of fraudulent, felonious, tax returns.
The Democrats denied the alleged indiscretions, though the complaints were still unconfirmed to the public at the time.
---
Social media censorship is suppressing the truth about the dangers of globalism and brutal cultures infiltrating the west. Please share this article wherever you can. It is the only way we can work around their censorship and ensure people receive news about issues that Democrats and the mainstream media suppress.
Scroll down to leave a comment below.
Subscribe to Our Newsletter