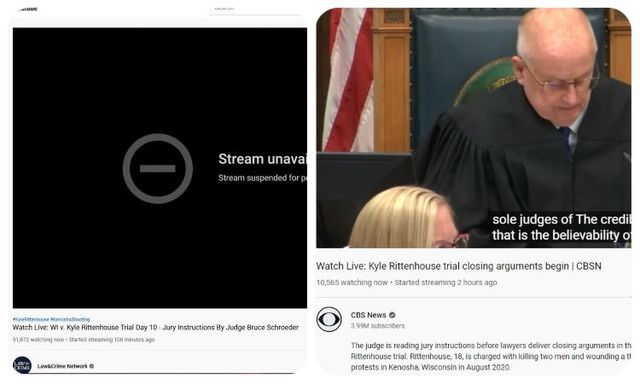 Prosecutors and defense lawyers are making their closing arguments in the criminal trial of Kyle Rittenhouse, the 18-year-old who is charged with homicide after fatally shooting two protesters during unrest last year in Kenosha, Wis.
Rittenhouse and his lawyers have argued that he was acting in self-defense when he shot three people with his AR-15-style rifle. In a dramatic turn on the stand last week, Rittenhouse testified that he feared for his life.
Prosecutors, led by Assistant District Attorney Thomas Binger, have argued that Rittenhouse created the peril he faced that night through a series of reckless actions that left other people fearful for their own lives.
However, if you try to watch this on some independent stream you will not be able to because at the moment YouTube is taking down All independent streams of the Kyle Rittenhouse Trial over "Policy Violations".
We have received more than one photo evidence: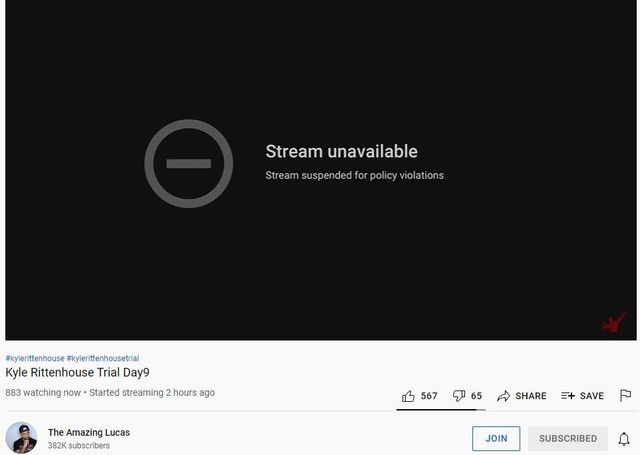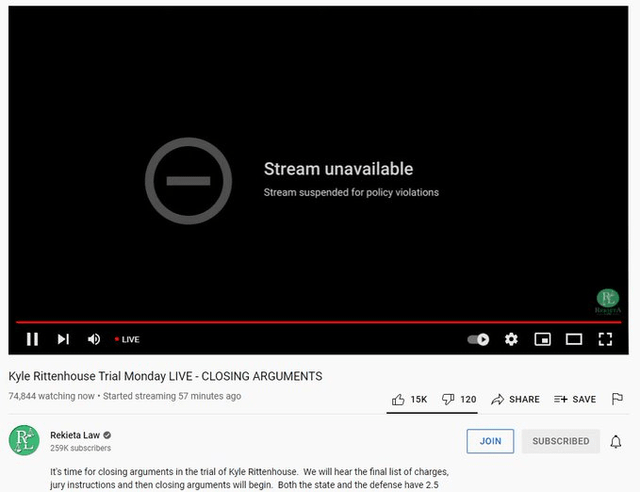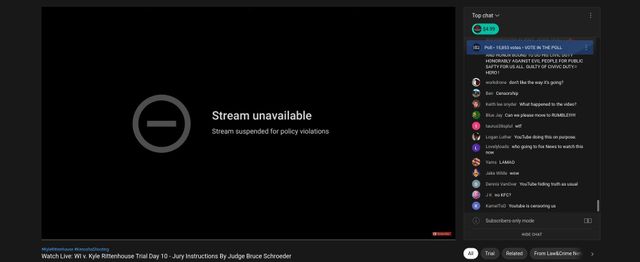 The mainstream media streams were the only ones who were let to air the trial online!
Law&Crime's live stream on YouTube of the Kyle RittenhouseTrial has apparently been taken down – shortly after a poll was run:

Corrupt corporate media wanted a show trial right up until the moment the entire thing collapsed. And at that point, Big Tech just magically decided to ban non-corporate media from covering the disintegration of their show trial.
Rittenhouse faces five felony counts: first-degree intentional homicide, first-degree reckless homicide, first-degree attempted intentional homicide and two counts of first-degree recklessly endangering safety of another. He has pleaded not guilty on all counts.
Jurors may also consider lesser versions of the charges related to the shootings of Huber and Grosskreutz.
Judge Bruce Schroeder dismissed a sixth charge, a misdemeanor related to possession of a dangerous weapon as a minor. Prosecutors brought the charge given Rittenhouse's age at the time of the shooting, but his defense lawyers successfully argued that a loophole in Wisconsin's law allows minors to possess guns with barrels 16 inches or longer.
---
Social media censorship is suppressing the truth about the dangers of globalism and brutal cultures infiltrating the west. Please share this article wherever you can. It is the only way we can work around their censorship and ensure people receive news about issues that Democrats and the mainstream media suppress.
Scroll down to leave a comment below.
Subscribe to Our Newsletter