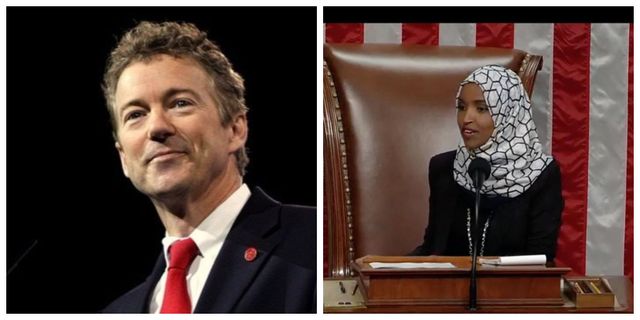 Jesse Waters on Fox's "The Five" said it best, "when you use the race card that means you have no other cards to play".
It seems that these young radical Democrats can play that card only!
Alexandria Ocasio-Cortez has taken her feud with House Speaker Rep. Nancy Pelosi to the extreme by insinuating she is a racist.
But she didn't stop there she went after President Trump next.
The president made his comments on earlier this month and caused a firestorm of controversy because he spoke about "women of color."
It seems that Sen. Rand Paul has a better idea.
Within the interview, conducted by Breitbart, Paul suggested that he would finance a trip to Somalia for Rep. Ilhan Omar (D-Minnesota) to her country of origin Somalia, to demonstrate things are much better in the U.S. than there.

"I'm not saying we forcibly send her anywhere," Paul said in an interview last week with Breitbart News, a conservative-leaning outlet. "I'm willing to contribute to buy her a ticket to go visit Somalia. I think she can look and maybe learn a little bit about the disaster that is Somalia."
Although Paul ran against Trump in the 2016 Republican presidential primary races, he has been supportive of his presidency at many junctures, including when charges of racism were made against the chief executive. 
---
Social media censorship is suppressing the truth about the dangers of globalism and brutal cultures infiltrating the west. Please share this article wherever you can. It is the only way we can work around their censorship and ensure people receive news about issues that Democrats and the mainstream media suppress.
Scroll down to leave a comment below.
Subscribe to Our Newsletter