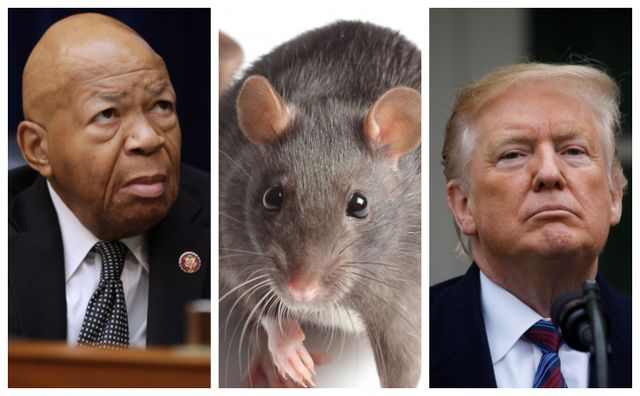 Baltimore Democratic mayor complained about the problems with rats last year and was caught on camera.
Pugh made the remarks during a Fox 45 segment while touring a Baltimore neighborhood that was supposed to highlight her "violence-reduction initiative."
In the footage, Pugh tours an area of vacant houses with city leaders and says: "What the hell? We should just take all this [expletive] down."
And then:
"Whoa, you can smell the rats."
"Whew, Jesus."
"Oh, my God, you can smell the dead animals."
WATCH:
Even Bernie Sanders said that Baltimore is like a third world country.
But when President Trump decided to address the issue he was labeled as racist by the mainstream media.
The problem in Baltimore with rats is so big that they even made a documentary about it.
The Baltimore Sun reported on February 26, 2018, that the documentary "about Baltimore's rodent fight" was scheduled "to air on PBS" that evening:
Across walls, fences, and alleys rats not only expose our boundaries of separation but make homes in them. "Rat Film" is a feature-length documentary that uses the rat—as well as the humans that love them, live with them, and kill them–to explore the history of Baltimore. "There's never been a rat problem in Baltimore, it's always been a people problem."
"Rat Film," a documentary that takes the decades-long fight waged against Baltimore's rat population and uses it as a lens through which to look at how the city has addressed myriad social issues over the decades, airs tonight on PBS.
The hour-long documentary from Baltimore filmmaker Theo Anthony, a crowd favorite at last May's Maryland Film Festival, airs at 10 p.m. on Maryland Public Television as the latest episode of PBS's "Independent Lens" series. It repeats at 1 a.m. and 4 a.m.
A longer version of Anthony's film played festival, as well as at the Stavros Niarchos Foundation Parkway in September. In chronicling Baltimore's decades-long battle against its unwelcome rodent population, Anthony details some disturbing parallels with the ways city leaders have tried to deal with various urban situations.
So according to liberals logic making a documentary about rats is now racist.
---
Social media censorship is suppressing the truth about the dangers of globalism and brutal cultures infiltrating the west. Please share this article wherever you can. It is the only way we can work around their censorship and ensure people receive news about issues that Democrats and the mainstream media suppress.
Scroll down to leave a comment below.
Subscribe to Our Newsletter