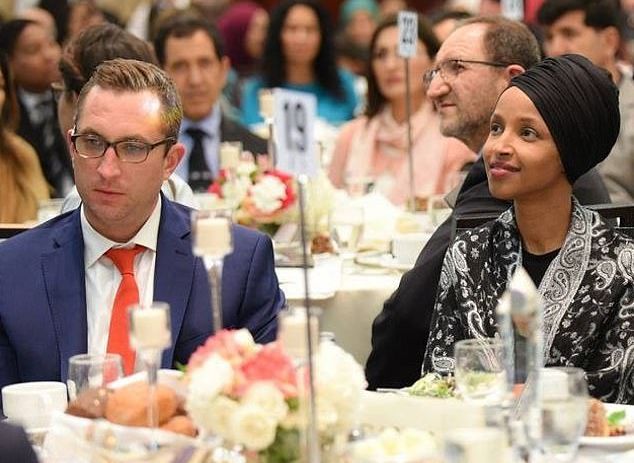 Ilhan Omar have a year full of scandals. The Democrats as always protected her along with their puppy the mainstream media.
In the latest story, a mother from Washington, D.C., says her political-consultant husband left her for Rep. Ilhan Omar, according to a divorce filing obtained by The New York Post.
Dr. Beth Jordan Mynett says her cheating spouse, Tim Mynett, told her in April that he was having an affair with the Somali-born US representative and that he even made a "shocking declaration of love" for the Minnesota congresswoman before he ditched his wife, alleges the filing, submitted in DC Superior Court on Tuesday.
The physician, 55, and her 38-year-old husband — who has worked for lefty Democrats such as Omar and her Minnesota predecessor, Keith Ellison — have a 13-year-old son together.
"The parties physically separated on or about April 7, 2019, when Defendant told Plaintiff that he was romantically involved with and in love with another woman, Ilhan Omar," the court papers say.
The Daily Caller today reported that Omar's campaign funded travel for man she's alleged to have an affair with.
Ilhan Omar's campaign has disbursed tens of thousands of dollars in "travel expenses" to the company owned by the political strategist whose wife accused him Tuesday of having an affair with the Minnesota Democrat.
Federal Election Commission (FEC) records reveal the Omar campaign began making travel reimbursements to Tim Mynett's company, E. Street Group, LLC, on April 1, about a week before this scandal broke out.
Omar's campaign funded $21,547 in travel for E. Street Group starting in April, FEC records show. Tim Mynett is a partner with the company, according to his LinkedIn profile.
Beth Mynett said in her court filing that Tim Mynett's "extensive travel" with Omar is likely unrelated to his work with E. Street Group.
"Defendant's more recent travel and long work hours now appear to be more related to his affair with Rep. Omar than with his actual work commitments," the document states.
Government ethics watchdog Tom Anderson of the conservative National Legal and Policy Center said Omar may have violated campaign finance law if she used campaign funds to pursue a romantic affair.
One question
How much longer before someone holds her accountable for her actions?
---
Social media censorship is suppressing the truth about the dangers of globalism and brutal cultures infiltrating the west. Please share this article wherever you can. It is the only way we can work around their censorship and ensure people receive news about issues that Democrats and the mainstream media suppress.
Scroll down to leave a comment below.
Subscribe to Our Newsletter