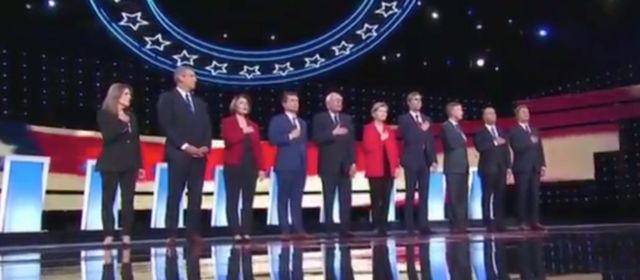 Democrats Leadership are the most corrupt politicians in the history of our country and we the people are being abused by them.
Every time our country makes significant success the Dems are here to ruin that.
The whistleblower who reported on President Donald Trump's call with the Ukrainian president had a previous tie to a 2020 Democrat presidential candidate.
Many of us won't be surprised by this report given the fact that we all know how the Democrats operate.
The intelligence community Inspector General Michael Atkinson gave that information to Congressional representatives in a closed door meeting last week.
"The IG said [the whistleblower] worked or had some type of professional relationship with one of the Democratic candidates," a source said.
"The IG said the whistleblower had a professional relationship with one of the 2020 candidates," yet another source said.
"What [Atkinson] said was that the whistleblower self-disclosed that he was a registered Democrat and that he had a prior working relationship with a current 2020 Democratic presidential candidate," a third source said.
"The IC inspector general told lawmakers that the Trump-Ukraine whistleblower had a working relationship with one of the current 2020 Democratic presidential candidates, according to three sources with knowledge of the testimony, Washington Examiner reporter Byron York said.
What do you think which candidate will be exposed?
---
Social media censorship is suppressing the truth about the dangers of globalism and brutal cultures infiltrating the west. Please share this article wherever you can. It is the only way we can work around their censorship and ensure people receive news about issues that Democrats and the mainstream media suppress.
Scroll down to leave a comment below.
Subscribe to Our Newsletter