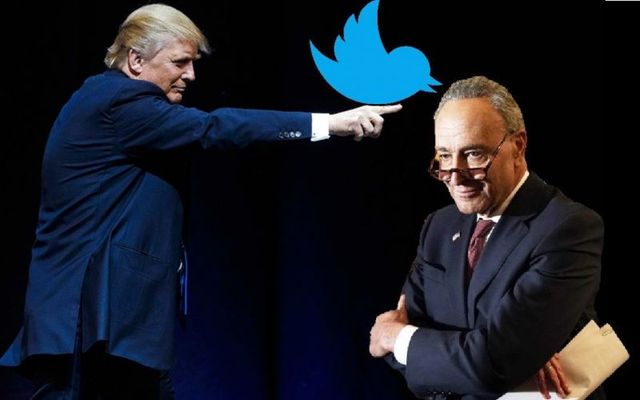 by Daveda Gruber:
Senate Minority Leader Chuck Schumer seems to have made a rather stupid blunder. Making fun of Schumer is always rather fun when he makes mistakes all on his own.
Schumer praised Chief Justice John Roberts of the U.S. Supreme Court for rebuking President Trump's recent "Obama judges" comment. He could have stopped there but Schumer but in the same tweet slammed Roberts' "partisan decisions."
Schumer tweeted:
I don't agree very often with Chief Justice Roberts, especially his partisan decisions which seem highly political on Citizens United, Janus, and Shelby.

But I am thankful today that he—almost alone among Republicans—stood up to President Trump and for an independent judiciary.

— Chuck Schumer (@SenSchumer) November 23, 2018
The many critics on social media and others were quick to  point out that in stating a two-sided response to the Trump-Roberts conversation presented a problem.  Schumer unknowingly was actually agreeing with the president. Trump had criticized the courts for partisanship.
Responses were in abundance. Twitter users tweeted this:
I wonder if Chuck realizes how he's contradicting himself and proving Trump's point in this statement? I doubt it. https://t.co/zLNscYcFzz

— Derek Hunter (@derekahunter) November 23, 2018
Does anything come out his mouth that isn't a lie or ignorance on steroids!

— Ron E (@ronaboe5) November 23, 2018
When left-leaning activist judges legislate from the bench it's "appropriate interpretation of the Constitution." When conservative judges strictly adhere to Constitutional text, it's "disgraceful political partisanship." That's how Dems think!

— Marc Balay (@MarcAlanBalay) November 23, 2018
So John Roberts is a partisan when the decisions don't go your way, and then one paragraph later, when he gives an opinion that you agree with, he's independent. That's baldfaced idiocy, Chuck – but the shoe fits. You don't even care how stupid you look. God bless you.

— ❌anny ❌agno (@mmagno_63) November 23, 2018
So Chuck doesn't like Roberts because of his partisan decisions, but also states that the judiciary is nonpartisan. Just to be clear…

— Mariusz K (@mar_kura) November 24, 2018
#CryinChuckSchumer makes Trump's point calling #ChiefJusticeRoberts partisan in his opinions #smh https://t.co/zUZ4V7bamW

— Eliot Lewis (@MainLineEliot) November 23, 2018
Ross Douthat, a conservative columnist of the New York Times went on to tweet:
Shorter Chuck Schumer: Trump is totally right about the courts, except when Republican appointees criticize him; then the judiciary is Independent and Good:https://t.co/4b28OVJp6G

— Ross Douthat (@DouthatNYT) November 23, 2018
Schumer's roundabout compliment came during a war of words between Trump and Roberts.
The president was criticizing the so-called "judicial activism" of federal judges who halt decisions made by the executive branch. This has become a common occurrence under the Trump administration.
Nominated by President Obama in 2012 to the U.S. District Court for the Northern District of California, U.S. District Judge Jon S. Tigar issued a temporary restraining order against Trump's plan to refuse asylum to immigrants who cross the U.S.-Mexico border illegally if they do not arrive at a port of entry. The ruling was made late Monday.
Trump said,  "You go to Ninth Circuit and it's a disgrace, and I'm going to put in a major complaint. Because you cannot win, if you're us, a case in the Ninth Circuit. Every case gets filed in the Ninth Circuit. … We get beaten, and then we end up having to go to the Supreme Court — like the travel ban and we won. We're gonna have to look at that."
Chief Justice Roberts replied, "We do not have Obama judges or Trump judges, Bush judges or Clinton judges. What we have is an extraordinary group of dedicated judges doing their level best to do equal right to those appearing before them."
Roberts added, "That independent judiciary is something we should all be thankful for."
Well, as you can imagine, Roberts' statement brought on the wrath of Trump.
Trump tweeted:
Sorry Chief Justice John Roberts, but you do indeed have "Obama judges," and they have a much different point of view than the people who are charged with the safety of our country. It would be great if the 9th Circuit was indeed an "independent judiciary," but if it is why……

— Donald J. Trump (@realDonaldTrump) November 21, 2018
…..are so many opposing view (on Border and Safety) cases filed there, and why are a vast number of those cases overturned. Please study the numbers, they are shocking. We need protection and security – these rulings are making our country unsafe! Very dangerous and unwise!

— Donald J. Trump (@realDonaldTrump) November 21, 2018
Justice Roberts can say what he wants, but the 9th Circuit is a complete & total disaster. It is out of control, has a horrible reputation, is overturned more than any Circuit in the Country, 79%, & is used to get an almost guaranteed result. Judges must not Legislate Security…

— Donald J. Trump (@realDonaldTrump) November 22, 2018
….and Safety at the Border, or anywhere else. They know nothing about it and are making our Country unsafe. Our great Law Enforcement professionals MUST BE ALLOWED TO DO THEIR JOB! If not there will be only bedlam, chaos, injury and death. We want the Constitution as written!

— Donald J. Trump (@realDonaldTrump) November 22, 2018
Twitter wars are interesting, especially when Trump comes out on top!
Do you have an opinion of the Ninth Circuit Court? I'd love to hear what you have to say. Please comment below.
---
Social media censorship is suppressing the truth about the dangers of globalism and brutal cultures infiltrating the west. Please share this article wherever you can. It is the only way we can work around their censorship and ensure people receive news about issues that Democrats and the mainstream media suppress.
Scroll down to leave a comment below.
Subscribe to Our Newsletter