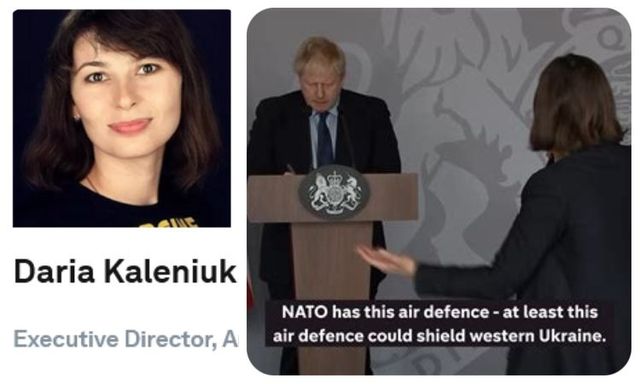 Another morning another staged appearance on TV!
The Sun who s a UKs equivalent of Amerca's New York Times reported a really heartbreaking story.
Journalist Daria Kaleniuk has been praised after emotionally appealing to Boris Johnson to enforce a no-fly zone to protect citizens from Russia's bombs.
Here's what The Sun had to say about her:
THIS is the moving moment a tearful Ukrainian confronted Boris Johnson about the West's failure to impose a no-fly zone to protect innocent mums and babies from Putin's missiles.
Daria Kaleniuk, a journalist who fled the war-torn nation to come to Poland, accused the PM of allowing humans to be shields against a sea of bombs, and said World War 3 had already begun.
Video below:
All of a sudden everyone becomes emotional but we have a surprise! She's not a real journalist. She's WEF Global Young Leader who featured in a Biden campaign video just 2 years ago.
As the National Pulse revealed this morning, Kaleniuk is a long-time political activist recently used in the Joe Biden 2020 campaign. Additionally, Kaleniuk serves as a World Economic Forum (WEF) Global Young Leader.
Kaleniuk featured as a Joe Biden "supporter" in an ABC News interview from 2019, after which she was used in a Joe Biden campaign video posted January 21 2020.
She was also listed on the WEF website in 2019, in their Global Young Leaders program which has also featured war-supporting globalists such as Justin Trudeau, Dan Crenshaw, Emmanuel Macron, and more.
Here's her World Economic Forum photo and description: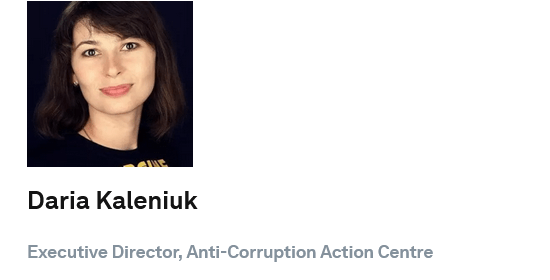 Daria is co-founder and executive director of the Anti-Corruption Action Center, a powerful national organization that has shaped Ukraine's anti-corruption legislation and efforts. Daria's organization ensured that Ukraine's newly elected parliament designed strong anti-corruption legislation, including the laws on the National Anti-Corruption Bureau of Ukraine, the special anti-corruption prosecutor's office, High Anticorruption Court, open property registers and electronic asset declarations. Daria has also founded critical resources to track money laundering and corruption internationally. Currently Daria is working on international Zero Corruption conference, which will take place in Kyiv with visit to Chornobyl zerocc.org
(This post may contain disputed claims. We make no assertions as to the validity of the information presented by our Opinion Columnist. This is an opinion article, and this post should be treated as such. Enjoy.)
---
Social media censorship is suppressing the truth about the dangers of globalism and brutal cultures infiltrating the west. Please share this article wherever you can. It is the only way we can work around their censorship and ensure people receive news about issues that Democrats and the mainstream media suppress.
Scroll down to leave a comment below.
Subscribe to Our Newsletter