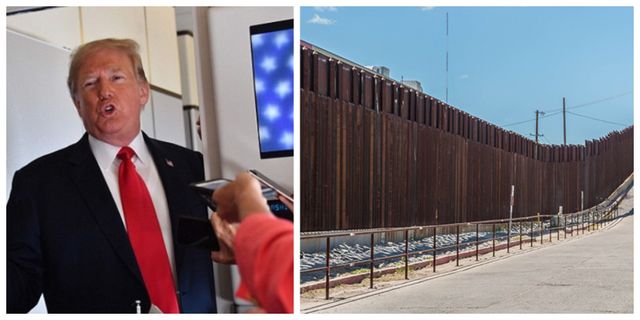 It was huge news back in March when the Pentagon notified Congress that they have authorized the transfer of up to $1 billion to begin new border wall construction.
Acting Defense Secretary Patrick Shanahan notified Homeland Security Secretary Kirstjen Nielsen of the transfer in a letter that the funds will go toward building a 57-mile wall that will block "up to 11 drug-smuggling corridors along the border.
President Trump had troubles in using these funds because a federal Judge From California Judge Haywood Gilliam has blocked the White House from using military funds to build a border wall.
But these problems seems to be in the past now as The US Supreme Court has blocked a ruling by a California judge that would have prevented President Donald Trump from spending $2.5 billion in Pentagon funds to build a wall along the country's southern border.
The court's 5-4 ruling fully reversed a California district judge's decision last month forbidding the president from redirecting the Congress-approved funds because the legislature hadn't specifically authorized the money to be spent on Trump's long-touted construction project.
The conservative justices on the court ruled in favor of the administration. Liberal justices Elena Kagan, Ruth Bader Ginsburg, and Sonia Sotomayor dissented. And Justice Stephen Breyer issued a split decision, agreeing in part with both sides.
The president celebrated the ruling on Twitter: "Wow! Big VICTORY on the Wall. The United States Supreme Court overturns lower court injunction, allows Southern Border Wall to proceed. Big WIN for Border Security and the Rule of Law!"
The SCOTUS decision is a major victory for Trump, who has seen his political opponents in the Democratic Party attempt to block the border wall's construction at every turn. The controversial barrier was at the center of a political standoff that saw a large chunk of the government shut down for over a month at the beginning of the year, and his efforts to declare a "national emergency" in order to free up some of the Pentagon's cash have also been stonewalled – until now.

---
Social media censorship is suppressing the truth about the dangers of globalism and brutal cultures infiltrating the west. Please share this article wherever you can. It is the only way we can work around their censorship and ensure people receive news about issues that Democrats and the mainstream media suppress.
Scroll down to leave a comment below.
Subscribe to Our Newsletter