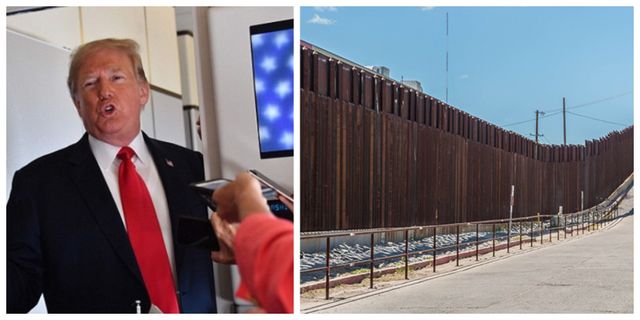 Many conservative political commentators have expressed their displeasure with President Donald Trump after his announcement that he would agree to reopen the government without first obtaining any funding for the border wall.
Even famous conservative pundits in our country started their attacks on the President but what they didn't know is the fact that he always had a plan!
After a review of the military construction budget, the Defense Department produced a list of 400 funded military construction projects totaling $12.8 billion that could be tapped for the border wall construction under President Donald Trump's national emergency declaration, the Washington Examiner reported Tuesday.
Democrat Sen. Jack Reed tweeted the 20-page document that identifies each project by military branch and state, and identifies any unused funds from fiscal year 2015 and newer.
"Trump Admin finally releases its list of at-risk #milcon projects that could be put on the chopping block in order to divert billions to pay for Trump's ineffective #borderwall. Take a look – military bases in your state could be negatively impacted," Reed tweeted along with a link to the document.
The report identified $700 million unused funds for military construction projects in California, and another $400 million in Hawaii.
The list includes projects such as barracks, hangars, equipment shops, airfields, parking facilities and more.
It's not yet clear which projects the funds will be drawn from, but the document notes specifically that "No military housing, barracks, or dormitory projects will be impacted."
"The appearance of any project within the pool does not mean that the project will, in fact, be used," the document adds.
Trump's national emergency order uses powers afforded by the National Emergencies Act to determine what issues to declare an emergency, and taps into unused funds for a response.
The border wall is already being built to an extent, despite the ongoing political fight back in Washington, D.C. The government already has some funding to construct segments of the border wall.
Congress approved more than $600 million for 33 miles of new barriers in the Rio Grande Valley last March.
The U.S. Customs and Border Protection refers to the plan as a border wall system. The agency released designs in September, which showed that they intended to build 25 miles of concrete walls next to the Rio Grande River.
The plan also includes installing 18-foot steel posts on top of the concrete walls and clearing a 150-foot enforcement zone in front.
---
Social media censorship is suppressing the truth about the dangers of globalism and brutal cultures infiltrating the west. Please share this article wherever you can. It is the only way we can work around their censorship and ensure people receive news about issues that Democrats and the mainstream media suppress.
Scroll down to leave a comment below.
Subscribe to Our Newsletter