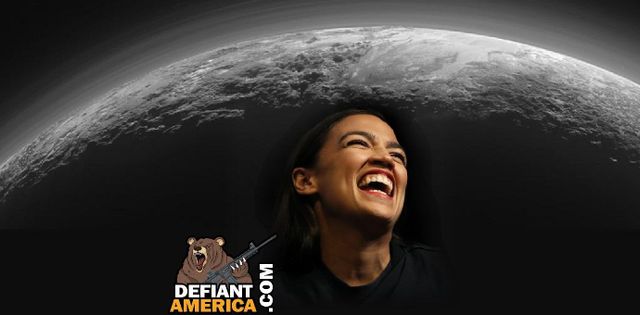 by Daveda Gruber:
On Friday the Democratic Socialist's beloved Alexandria Ocasio-Cortez said fellow progressives' and her election victory was like the 1969 moon landing. She has presumably visited the dark side of the moon, considering that her win was in an overwhelmingly Democratic district.
Ocasio-Cortez also said her victory was also similar to the 1964 Civil Rights Act.
She spoke at an event hosted by an environmental group, the Sunshine Movement, which aspires to combat climate change.
She said, "We've done what we thought was impossible."
Ocasio-Cortez added, "We went to the moon. We electrified the nation. We established civil rights. We enfranchised the country. We dig deep, and we did it. We did it when no one else thought that we could. That's what we did when so many of us won an election this year."
She joined a climate change protest outside House Speaker-designate Nancy Pelosi's offices on her first day on Capitol Hill.
Ocasio-Cortez is the young New York Democrat who is making the fight against climate change her signature issue.
In a bid that aims to transform the U.S. economy away from fossil fuels and embrace renewable energy, she's also been pushing for the so-called "Green New Deal."
There are a few House Democrats who said they support her pledge to reinstate a special committee on climate change. This will go forward when Democrats officially take control of the House in January.
I hope they will also take care of the moon. That's where Ocasio-Cortez apparently is.
I don't really believe that her win could be described in the same context as historical moments in American history.
Ocasio-Cortez became popular after she defeated Democratic Rep. Joe Crowley who served for ten (10) terms.
There are some who are still scratching their heads on how that happened.
She easily sailed to victory because her district doesn't have Republican presence. There was no viable opponent put forward to oppose her candidacy.
Less than 16,000 people voted for the Democratic Socialist in her primary election against Crowley.
The district has hundreds of thousands of registered Democrats but there was only a total 27,744 ballots.
"Justice Democrats" is a left-wing group that headed a front for Ocasio-Cortez and other progressives' candidacies.
The group claims to have taken over Congress. They did manage to elect a total of four non-incumbent Democrats in already safe blue seats.
Interesting enough, none of the candidates endorsed by the group flipped a seat from Republicans.
Besides Ocasio-Cortez comparing her victory to the moon landing, she was recently criticized after comparing migrant caravan members who met with conflict with U.S. border agents, to Jewish families fleeing Nazi Germany and other targets of genocide.
Lindsey Graham, the South Carolina Senator criticized the Congresswoman-elect telling her to study on the issue before making such comparisons.
Graham tweeted out:
I recommend she take a tour of the Holocaust Museum in DC.

Might help her better understand the differences between the Holocaust and the caravan in Tijuana. https://t.co/05vCexiClE

— Lindsey Graham (@LindseyGrahamSC) November 26, 2018
What do you think of Ocasio-Cortez? I'd love to see your comments.
---
Social media censorship is suppressing the truth about the dangers of globalism and brutal cultures infiltrating the west. Please share this article wherever you can. It is the only way we can work around their censorship and ensure people receive news about issues that Democrats and the mainstream media suppress.
Scroll down to leave a comment below.
Subscribe to Our Newsletter