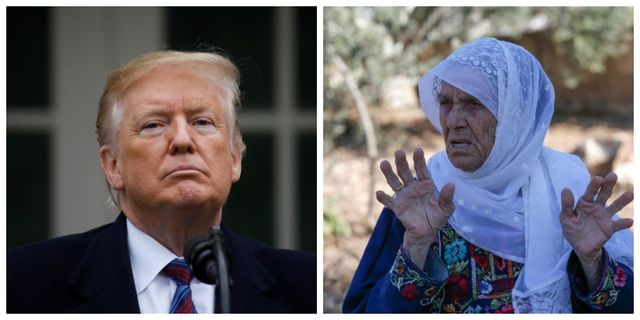 U.S. Representative Rashida Tlaib on Friday said she would not visit her family in the West Bank as planned despite a reprieve by the Israeli government allowing her visit.
"Silencing me & treating me like a criminal is not what she wants for me. It would kill a piece of me. I have decided that visiting my grandmother under these oppressive conditions stands against everything I believe in – fighting against racism, oppression & injustice," Tlaib, a Democrat representing Michigan, said in a series of tweets.
President Trump decided to comment on the matter and used his Twitter profile to bash Rashida Tlaib.
"Israel was very respectful & nice to Rep. Rashida Tlaib, allowing her permission to visit her 'grandmother,'" Trump tweeted on Friday evening. "As soon as she was granted permission, she grandstanded & loudly proclaimed she would not visit Israel."
The president further speculated on the motivation behind Tlaib's planned trip, asking, "Could this possibly have been a setup? Israel acted appropriately!"
President Trump fired back at Tlaib for her choice to jilt her grandmother, saying, "Rep. Tlaib wrote a letter to Israeli officials desperately wanting to visit her grandmother. Permission was quickly granted, whereupon Tlaib obnoxiously turned the approval down, a complete setup. The only real winner here is Tlaib's grandmother. She doesn't have to see her now!"
Muftia Tlaib Rashida's grandmother decided to attack President Trump using God's name.
"May God ruin him," she says.
Tlaib is the grandmother of U.S. congresswoman Rashida Tlaib, at the center of an affair that has drawn Donald Trump and Israeli Prime Minister Benjamin Netanyahu together against U.S. Democrats.
Ninety-year-old Muftia Tlaib, sitting in her garden in the village of Beit Ur Al-Fauqa, was not impressed. "Trump tells me I should be happy Rashida is not coming," she said. "May God ruin him."
Her son, Rashida's uncle Bassam Tlaib, said the women had not seen each other since 2006:
"She was going to slaughter a sheep when Rashida arrived and prepare her favorite food, stuffed vine leaves.
---
Social media censorship is suppressing the truth about the dangers of globalism and brutal cultures infiltrating the west. Please share this article wherever you can. It is the only way we can work around their censorship and ensure people receive news about issues that Democrats and the mainstream media suppress.
Scroll down to leave a comment below.
Subscribe to Our Newsletter