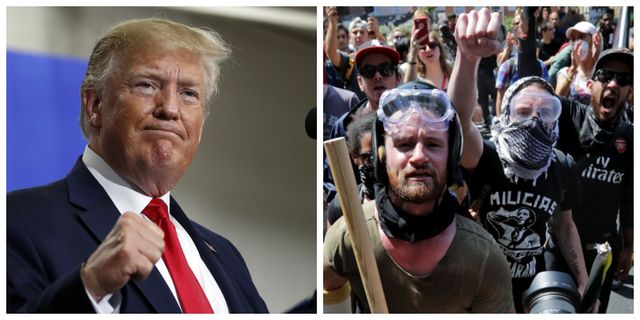 Last month two brave American senators Sen. Ted Cruz and Sen. Bill Cassidy have introduced a bill that would declare Antifa a terrorist organization.
"Antifa is a domestic terror organization. This is a group of hateful, intolerant radicals pursuing their extreme agenda through violence.
"They are masked bigots, attacking others b/c they don't agree with their ideas. The time to stop Antifa is NOW!" Sen. Cassidy said.
It seems that this was just the beginning because Officials in Portland, Oregon, are considering a ban on the wearing of masks during protest events, in response to the violent clash that took place in the city between Antifa and right-wing groups.
This morning President Trump decided to warn Antifa.
Major consideration is being given to naming ANTIFA an "ORGANIZATION OF TERROR." Portland is being watched very closely. Hopefully the Mayor will be able to properly do his job!

More than two dozen local, state and federal law enforcement agencies, including the FBI and the Federal Protective Service, are in Portland to help police monitor the protests.
Ahead of the rally, Democratic Mayor Ted Wheeler said Friday on Fox News' "Outnumbered Overtime" said he's confident "from a law enforcement perspective, we're going to have all the tools and the resources and personnel we need."
---
Social media censorship is suppressing the truth about the dangers of globalism and brutal cultures infiltrating the west. Please share this article wherever you can. It is the only way we can work around their censorship and ensure people receive news about issues that Democrats and the mainstream media suppress.
Scroll down to leave a comment below.
Subscribe to Our Newsletter