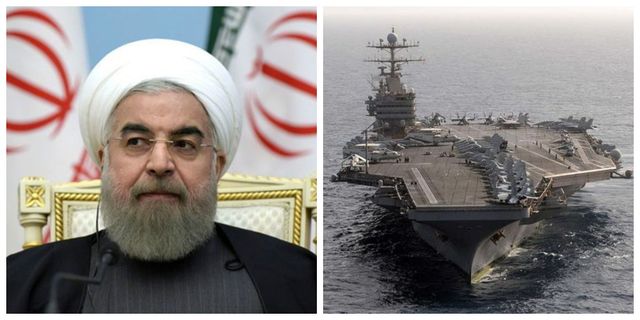 Obama and his minions have traded not only America's future but the future of the world, for a pocketful of gold and a few years of power. These are the vile, abject hypocrites who supposedly opposed nuclear weapons, war, and big money in politics. Words are insufficient to convey the extent of their abject betrayal. The entire time that Obama and his demons have been enabling Iran, they have acted as if they are oblivious to the inevitable use of those weapons on this country and Israel.
Many of us were trying to understand why anyone can point to the Iran deal as anything other than a terrible agreement that not only puts Isreal in harm's way but puts ourselves in such a bad situation
Luckily we have President Trump and things will change for Iran!
U.S. sending Iran a 'clear and unmistakable message'
The U.S. is sending the USS Abraham Lincoln Carrier Strike Group and a bomber task force to the Middle East in order "to send a clear and unmistakable message to the Iranian regime," National Security Adviser John Bolton announced Sunday night.
Bolton said the deployment was in response to "a number of troubling and escalatory indications and warnings" on the part of Tehran, but did not elaborate. "[A]ny attack on United States interests or on those of our allies will be met with unrelenting force," Bolton said. "The United States is not seeking war with the Iranian regime, but we are fully prepared to respond to any attack, whether by proxy, the Islamic Revolutionary Guard Corps, or regular Iranian forces."
Last month, President Donald Trump designated Iran's Islamic Revolutionary Guard Corps, including its Quds Force, as a Foreign Terrorist Organization.
On April 22, The White House officially announced the end of 'sanctions waivers' to eight countries that allowed them to trade oil with Iran, increasing the "maximum pressure" campaign on the Islamic republic.
---
Social media censorship is suppressing the truth about the dangers of globalism and brutal cultures infiltrating the west. Please share this article wherever you can. It is the only way we can work around their censorship and ensure people receive news about issues that Democrats and the mainstream media suppress.
Scroll down to leave a comment below.
Subscribe to Our Newsletter