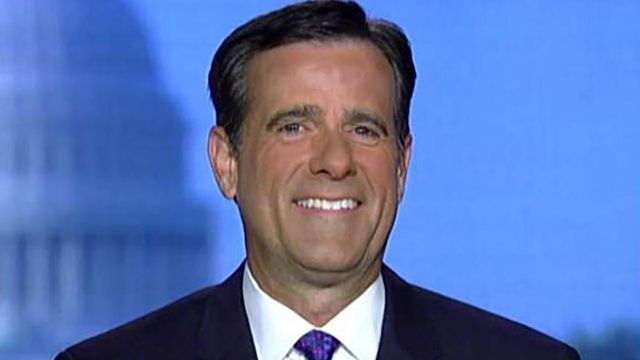 Texas Rep. John Ratcliffe will replace Dan Coats as Director of National Intelligence (DNI) after months of issues between President Donald Trump and the intelligence community.
Trump announced Sunday that Ratcliffe would replace Coats, whose last day in office will be August 15, according to Trump's tweet. Trump and Coats have publicly butted heads during the latter's two-year tenure as DNI.
The new director has a promise for anyone that was in the Obama administration.
If you were involved in any type of criminal activity or conspiracy against President Donald Trump he and Attorney General Bill Barr are coming for you.
Today while he was talking to Fox Maria Bartiromo he said:
"They accused Donald Trump of a crime and then they try and reverse engineer a process to justify that accusation.
"So I'm not going to accuse any specific person of any specific crime, I just want there to be a fair process to get there.
"What I do know as a former federal prosecutor is that it does appear that there were crimes committed during the Obama administration," he said.
"Now the things that Bob Mueller said he didn't know about and his team clearly didn't look at, those are things that would be fair for Bill Barr and the Department of Justice to look at.
"Because we know that things happened in the Obama administration that haven't been answered. There's been no accountability for that yet," he said.
Well, the special counsel told us … that they didn't do it. And if they didn't do it, the only place we can get the answers is from the Justice Department right now," he said.
"The American people want that. Their faith and trust, Maria, has been shaken in our Justice Department, and the only way to get that back is for there to be real accountability with a very fair process.
"Again, I have supreme confidence in Bill Barr's ability to deliver that. And at the end of the day, wherever the outcome may be, as long as we know that the process was fair, the evaluation was fair, justice will be done. Look, the truth always defends itself."
The Texas representative and new Director of Intelligence said that former FBI Director Jim Comey is the first one in their sights.
"Where it all started, Jim Comey. He admitted that he leaked his confidential conversations with the president to a reporter.
"Did that include classified information? We need a fair processes to find out answers to that," he said to Bartiromo.
"I trust, because Bill Barr has earned my trust already and the trust of the American people, that there'll be a fair process with John Durham and with Michael Horowitz to get answers to that and provide accountability where it really belongs," he said.
Video below:
Ratcliffe is a prosecutor. That experience will be needed to prosecute those who attempted to discredit the President.
---
Social media censorship is suppressing the truth about the dangers of globalism and brutal cultures infiltrating the west. Please share this article wherever you can. It is the only way we can work around their censorship and ensure people receive news about issues that Democrats and the mainstream media suppress.
Scroll down to leave a comment below.
Subscribe to Our Newsletter