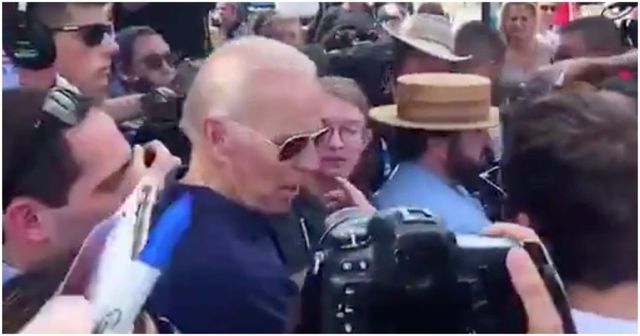 Biden, the 76-year-old former vice-president and senator from Delaware enters a crowded field of competitors, but polls in recent weeks have consistently shown him leading the pack, perhaps because of his experience and lengthy record in office.
But unlike some of his much younger opponents, it's his decades in the public eye, and in particular his well-documented history of confusing or downright embarrassing gaffes and misstatements, that may end up working against him.
Biden's awkward behavior over the years is not limited to what he has said, but also how he acts. Several women have recently come forward to say he has made inappropriate physical contact with them, leaving them feel uncomfortable.
His latest awkward moment came while he was walking through a crowd at the Iowa State Fair on Thursday.
Biden said there were "at least three" genders after that he shook someone else's hand before turning around and pulling the arm of the young female questioner to get her attention and tell her he was the "first one" to support gay marriage.
"How many genders are there?" Katie asked.
"There are at least three," Biden responded.
"What are they?" Katie asked.
Biden becoming visibly angry, responded: "Don't play games with me, kid."
In an interview with Turning Point USA, Katie described the incident: "When I asked the question it took a few seconds for the question to register [in Biden's mind] and then he responded with 'three.'"
After describing her encounter with Biden when she asked the followup question, Katie noted that Biden reached out and touched her in an inappropriate manner.
The interaction was captured on video and shared by Turning Point USA's Charlie Kirk:
Still, he is the Democrats best hope for 2020, their chances just went from slim to none.
---
Social media censorship is suppressing the truth about the dangers of globalism and brutal cultures infiltrating the west. Please share this article wherever you can. It is the only way we can work around their censorship and ensure people receive news about issues that Democrats and the mainstream media suppress.
Scroll down to leave a comment below.
Subscribe to Our Newsletter