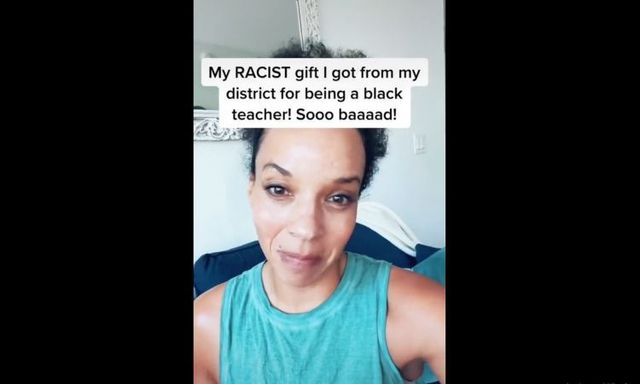 Support for Black Lives Matter movement collapses among Whites and Hispanics, but also loses its popularity with the African-American community.
The reality of the BLM movement in action did not meet expectations. That's particularly true since the riots coincided with and were followed by a wave of racist actions under the umbrella of Critical Race Theory's offshoot "antiracism."
While the Black Lives Matter movement remains an incredibly powerful force, fueled by hundreds of millions of dollars, it is losing popularity across demographic groups.
And a black teacher with a Jamaican heritage just proved that BLM s only bring segregation and not unity!
This is a prime example of what white liberals do and how they think.
The black teacher, who is Jamaican, got a swag bag filled with stereotypical gifts including honey body wash, Black Teachers Matter face mask, black fist sticker with the continent of Africa behind it, and so on.
In the eyes of the white school board, all blacks are the same, think the same, and have their entire existence based on what color they are.
Video below:
A school district in California gave the black teachers this gift 👇🏻 pic.twitter.com/24YVOcSz1e

— Libs of Tik Tok (@libsoftiktok) September 26, 2021
Every life unjustly killed deserves justice. In the cause to make things right, people will not join a movement that has nearly everything wrong. More innocent lives have now been killed (including cops) since these predominantly violent protests began over George Floyd's horrific death. What about the black lives killed in this nationwide chaos? About the police officers, about every American that got his store burned? Do they matter?
OPINION: This article contains commentary which reflects the author's opinion
---
Social media censorship is suppressing the truth about the dangers of globalism and brutal cultures infiltrating the west. Please share this article wherever you can. It is the only way we can work around their censorship and ensure people receive news about issues that Democrats and the mainstream media suppress.
Scroll down to leave a comment below.
Subscribe to Our Newsletter