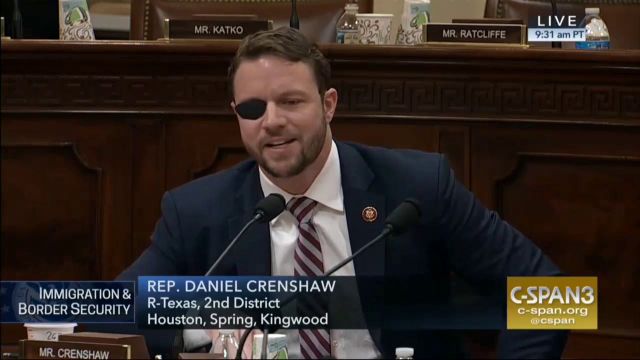 Daniel Reed Crenshaw is an American politician and former United States Navy SEAL officer serving as the U.S. Representative for Texas's 2nd congressional district since 2019. A member of the Republican Party, he was elected in the 2018 midterms.
He is labeled by many as the future of the GOP and they are not far from the truth!
The Congressmen was talking with Homeland Security Secretary Kirstjen Nielsen about the problems of illegal immigration. Rather than focusing on families separated at the border, as is the leftist way, Crenshaw discussed the tragic sex trafficking allowed to occur because of lax immigration laws and asylum policies. Which no Democrat seems to want to discuss
Partial transcript:
Crenshaw: A lot of questions have come up about the humanity of our policies. But nobody every talks about the other issues we might have when it comes to our humanity.
Crenshaw: On the third attempt they made it through. She was brought to New York City where she was raped 30 times a day for five years. I don't know why no one wants to talk about that humanity.
Crenshaw: Personnel, technology and barriers. Can you just take one of those away?
Nielsen: No, you need all three.
Watch:
I love the way this fella speaks,if he runs for President, I just might jump on the bandwagon for this guy, after Trump wins in 2020. Crenshaw 2024?
---
Social media censorship is suppressing the truth about the dangers of globalism and brutal cultures infiltrating the west. Please share this article wherever you can. It is the only way we can work around their censorship and ensure people receive news about issues that Democrats and the mainstream media suppress.
Scroll down to leave a comment below.
Subscribe to Our Newsletter