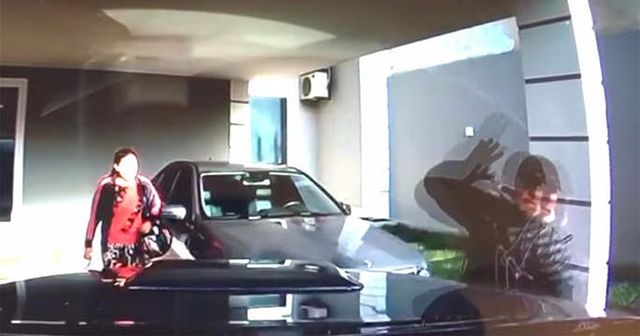 Paraguay, Ciudad del Este – A man came across some thieves leaving his house and did not hesitate to run them over with his truck – video below.
Blue Lives Matter reported that Milciades Rodolfo Paiva Moria, 32, returned home has his cleaner was waiting for him outside on the scooter. As Moria opened his garage door to park, two burglars emerged from the front door and fled to their getaway vehicle.
While one of them is quick enough to escape, the other is hit by Mr. Moria's Toyota Hilux and sent sprawling on the floor.
The homeowner continued to ram the suspects as they tried to escape into their Kia Picanto. The damaged caused to the Kia resulted in it breaking down, so the men fled on foot.
The suspects get away, but police say they have identified the men from rental documents which appear to be under their real names. They were identified as Chilean nationals Juan Pablo Sánchez Santander and Alejandro Andrés Fernández Pérez. They have put out a warrant for their arrest.
You can see the video of the incident below:
This is a good lesson to show that if you go into someone's house uninvited, you might get into a fight with a car – or even worse. If the homeowner is set to stop you, you will be stopped!
The homeowner stopped them. GOOD JOB!
And this proves idiots live everywhere. They left the paperwork with their names on it in the rental – LOL.
What do you think about this?
---
Social media censorship is suppressing the truth about the dangers of globalism and brutal cultures infiltrating the west. Please share this article wherever you can. It is the only way we can work around their censorship and ensure people receive news about issues that Democrats and the mainstream media suppress.
Scroll down to leave a comment below.
Subscribe to Our Newsletter