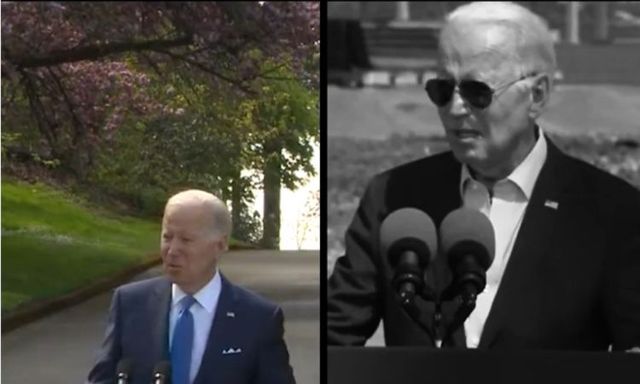 US President Joe Biden's recent remarks on cancer set off a string of speculation on his medical status.
Announcing a slew of steps to counter the climate crisis at an event in Somerset, Massachusetts on Wednesday, the 79-year-old US President said he "grew up with cancer".
While speaking on the issue, Biden recounted a childhood anecdote of his mother driving him to school and his first encounter with the side effects of emissions from oil refineries near his home in Claymont, Delaware.
"… Because it was a four-lane highway that was accessible, my mother drove us rather than us be able to walk," he said.
"And guess what? The first frost, you know what was happening? You had to put on your windshield wipers to get literally the oil slick off the window. That's why I and so damn many other people I grew up with have cancer, and why, for the longest time, Delaware had the highest cancer rate in the nation," added Biden.
Video below:
Joe Biden leaves crowd STUNNED and wondering whether he's just battling with the teleprompter AGAIN when he announces he has CANCER:

"That's why I, and so damn many other people I grew up with, have cancer."

— Benny Johnson (@bennyjohnson) July 20, 2022
However, the White House clarified later that Biden was referring to his history of "non-melanoma" skin cancer before assuming power last year. They couldn't clarify if Joe has dementia or cancer!
But wait, it gets worse.
So, the story Joe told about him and his Delaware pals all having cancer thanks to oil slicks on windshields is actually an oldie but a goodie.
Apparently, Joe's been telling this story for a while now, only in the past version, the oil slick didn't cause everyone in Delaware to get cancer, it caused asthma.
Video below:
He also said it during the 2020 debate:
he also said it during the 2020 debate pic.twitter.com/6sQPIBA6d8

— Booger Couch (@BoogerCouch) July 21, 2022
"This is the God's Truth…"
I'm always skeptical of anyone that tells me that they are telling "the Truth".
---
Social media censorship is suppressing the truth about the dangers of globalism and brutal cultures infiltrating the west. Please share this article wherever you can. It is the only way we can work around their censorship and ensure people receive news about issues that Democrats and the mainstream media suppress.
Scroll down to leave a comment below.
Subscribe to Our Newsletter